Why interior design is important for restaurants [2021]
Why interior design is important for restaurants in Kolkata?
Think about that cafe almost 10 km away from your home. but you still manage to pay a visit to the place often. What can the other possible reasons for this obsession of your's be? The taste and quality of food is definitely a key reason. But other than this, what can the next big reason be? Ambiance! Isn't it? Now that you have started your own venture into the restaurant business, you definitely need to understand the whys and hows of having your restaurant designed by the best interior designing company in Kolkata.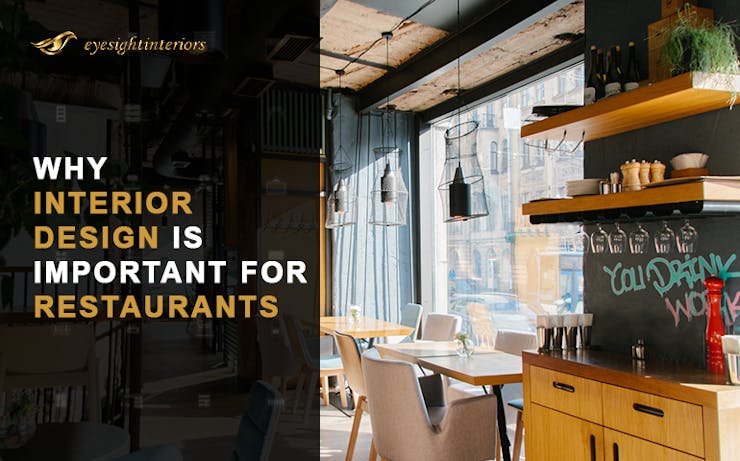 To set a new restaurant or make it eye-catching, firstly you must focus on the interior design. Do you know, why is interior design important for restaurants? Generally, restaurants are very complex and it needs proper interior design and professional handling so that it can leave a good impression on the customer.
The backbone of the restaurant is its efficient interior design and the ambiance created from the interiors. Restaurants are places where people consume good food and good service or try out new dishes to satisfy their taste buds. With the help of the restaurant interior designer in kolkata you can create the best interiors of a restaurant. You should also be careful in maintaining the service for the customers. Good service leads to good ratings for your restaurant.
Also read, 10 Easy Ways To Choose The Best Interior Design For Your Dining Room
How to design a restaurant interior
1. Right Selection of Colours
An expert interior designer perfectly focuses on the colors to be imputed on the walls. Applying a good and vibrant color to the walls can attract customers. It puts a very powerful impact on your guests as it creates a mood for craving food and drinks. Engaging in good color can help to create that perfect mood for your customers. Even the colors contain chemicals that kill the virus and make it hygienic. So in this way, you can enjoy the sight of the color and also kill the germs.
The different colors which put effects like, Red and Orange is commonly seen in the interior of a restaurant because it increases the heartbeat and makes your guests feel hungry. It is mainly helpful in increasing your table turnover rate. Yellow helps to bring appetite by giving a lively feel and gives you energy. Blue is a suppressant that relaxes the diners and calms the guests. It is used in restaurants to suppress appetite and reduce hunger. Brown, purple, and Gray are a big no for the interiors. When you hire interior designer in kolkata you will get to know from them about how Gray is dreary and tired, Brown which reminds of burnt food, and Purple which is associated with less popular foods like eggplants or brinjals. These interior designers have an idea about the color combination.
2. Choosing the Right Furniture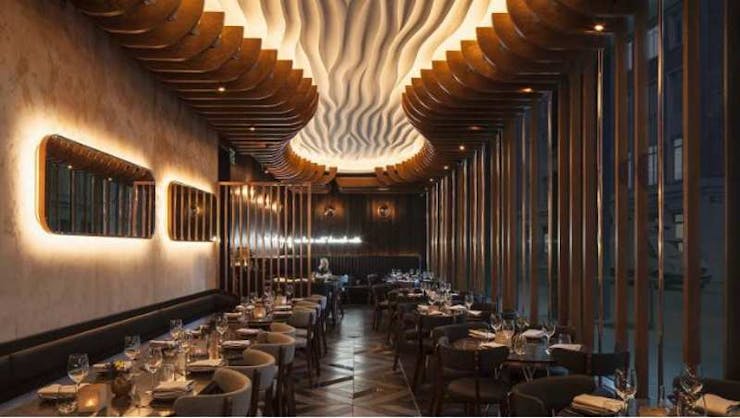 Another important part is to place the right piece of furniture. You have to keep in mind the furniture that you will be placed in your restaurant. It should be Long-lasting, good-looking, and comfortable. If the furniture is not used wisely chosen then it will create discomfort among the customers.
3. Theme
Hiring "interior designers in West Bengal", you may be able to place a good design for your restaurant. You can even share your ideas with the interior designer so that both of your ideas can create a beautiful space. You can even create the theme of your restaurant in such a way where you can place a spot for both birthday parties or candle night dinners for couples. This can also attract your customers. Interior designers in west bengal always guides you to choose the best-looking theme for your restaurant.
4. Adding a Single Selfie Wall
You can make your restaurant look more attractive by adding a beautiful spot for a selfie. In this way, you can both attract customers to your restaurant and can easily brand your business through social sharing which helps your guests to connect in a fun and authentic way. It is also a bonus spot that gives good lighting not only for natural lights but also on nights. That spot gives an equal amount of light during days and even on nights. 
5. Lighting
It's the most essential part of a restaurant. Especially for dinners, it's important to pick the perfect lighting for your restaurant. You can even please the mood of your customers which will make them feel like staying a bit longer to enjoy the moment and order food, which will help in providing the right service for your guests as well as helping you target your sales. 
Due to the increasing Coronavirus, there are certain lights or lighting found in the market which not only gives you great light but also kills the virus in a minimum state. So make sure to use that kind of light.
6. Fragrance
You will get to see renowned restaurants like Starbucks, Amina, Peter cat, Arsalan, and other such restaurants having an amazing scent or smell from their products that overpower you and let you force yourself to walk into the restaurant. Based on some research, the right scents can increase your food sales by 300%, so make sure you include them in your restaurant interior design. The fragrance that usually stimulates are:
Chamomile, Lavender, and Vanilla help in reducing stress and relaxes the mind making it perfect for fine dining restaurants.

Peppermint, cucumber, and citrus flavors make the entire space feel fresh, making them ideal for restaurant catering.

The aroma of foods like biryani, chilly chicken, tandoori chicken, or other foods makes the customers unable to resist having that food and they end up going inside the restaurant.
7. Total Dining set up
Seating or the dining set-up is another major part of interiors in restaurants. The seats in restaurants have a huge impact on your customer's psychology. The best interior designing company in Kolkata can give you numerous ideas on what set-up could be applied. For example, you can use sofas for your restaurant which can be a great and unique idea. They not only give a unique look at the same time they give a very light feeling. Mixing different seating methods like swings or hammocks also have the same impact on the customer to relax and stay. Swings, on the other hand, reminds us of everyone's childhood.
8. Music
Soft and light music can make your guests stay a little bit longer and enjoy the atmosphere. For music, the instrumental works the best. Having a program of the live piano can be the best thing you can do to run your restaurant well. Also adding popular and trending music can be the right choice. Normally fast off-beat music is used in pubs and nightclubs. So it is better to use slow soft sounds or music in restaurants.
You can also add birthday music if your restaurant is permitted for arranging for such occasions. This can also catch the attention of your customers because most restaurants are not likely to permit such parties.
9. Cutlery Set
For this, you need to hire a home interior designer in Kolkata who can choose the best set matching your theme used in your restaurants. You will have to get almost all kinds of sets. Or you can also select those items according to the menu being created for your customers. The different cutlery sets are:-
Salad forks
They are used in salads.

Dinner forks
Dinner forks are used in meals.  These are used for eating main courses where meat is included in almost all the dishes.

Dessert forks
These forks are meant specifically for eating desserts.

Oyster forks
They are for guests who consume shellfish. Its size is convenient to crack and open a shell.

Table knife
It is available and present in every restaurant. Knives are important to cut meat or fish without using your hands.

Teaspoon
Another common cutlery set is a teaspoon where it is used to eat out the gravy or used for stirring drinks and eating fairly soft foods. It is also used for other purposes for drinking tea or coffee.

Soupspoon
Soup spoons are much better suited for this purpose. The guests will be able to eat soup in the right amounts.

Sporks
This is another new form of cutlery set. It is easy to use as it works both as a fork and a spoon as well. At present, it is a trend in the market. Most interior designers prefer this set of cutlery in a restaurant.
10. Materials 
Based on your theme you will have to place the cutlery set that fits with your theme. So you choose materials like,
Stainless Steel
This type of silverware has been used by everyone for several years. It has good durability and is also easy to clean either by hand or in your dishwasher.

Birchwood Silverware
If you are having the theme of your restaurant based on environment-friendly, then birchwood silverware is your best choice. This silverware is made out of birchwood and is completely biodegradable. Purchasing birchwood silverware is inexpensive and at the same time, it is sturdy and easy to use.

Bamboo
Another unique piece of material used in Cutleries. Mostly the bamboo is used ornately but it has become a fashion. Bamboo handles look beautiful on different pieces of silverware and they are sturdy and washable.

Titanium
They are certain sets of silverware that are made using titanium. Stainless steel is used and then it is plated with titanium to give it even more strength. This also gives the silverware a very distinct charming look and color. This set attracts most of the customers.
Apply these tips in your restaurant interior design to make sure that you leave a significant impact on your customers and make them come to your restaurant. To become eye-catching among the people you should first of all plan what kind of interior should be used and then comes the other things.
You have to also make sure that you use Eco-friendly products, like using energy-efficient appliances. The kitchen should be kept clean and hygienic for the workers working there as well and of course remember to sanitize the interiors, kitchen, bathrooms and also the seats for the customers. 
Now you take care of your restaurant interior design but what about your bedroom interior design?
Have an Query? Get free Quotation