Are you someone who enjoys some serene and quiet corner amidst nature? If yes, then you are sure to wanna spend some extra effort in decorating your balcony. A dreamy, cozy and peaceful space in your home. That's why you need the best interior designer in Kolkata. No matter if your balcony is small or a big one. A little bit of love and designing can turn it into an abode of tranquil pleasure. And the most amazing part of modern balcony designs is that you do not necessarily have to make it similar to your home interiors.
So we have come up with some amazing ideas on Balcony design in Kolkata.
Modern balcony design ideas
Araam Farmaan
Bring out the cozy nook out on your balcony with a similar white swing. If it's a terrace-like space, add some flora to add to the sanctuary feel.
Tea Party
How amazing does this space look? The wooden sofa, with the white and pink cushions. Doesn't this make a perfect tea date space for your family? And you definitely wouldn't have to worry about rain for the white shade situation up there.
Work from home
Have a look at this minimalist balcony. The wicker chairs and the rug add a character of simplistic elegance to the space. I can already see myself working from this space during the quarantine. A productive corner along with a stylish balcony design.
Hariyali
One of the very trending ways of Modern balcony designs. Build your small horticultural retreat on your balcony. Trust me, plants can be a constant source of serenity.
Kitchen garden
Besides the seating arrangement in your balcony, you may grow a small kitchen garden in the balcony of your apartment. It has access to sunlight and enough air for the plants to thrive. Herbs, pepper, and small berry plants can be a great pick-up for the space.
Extension of the living room
Do you have your living room opening up to the balcony? You may carry a tint of your living room decor into your balcony design with glass partitions between the two spaces. This shall allow you to separate out the two areas yet keep them as one. This shall be especially helpful for small apartments with a small living hall.
Light up the space
Why not make the peace abode stand out even when there is no natural light? Lighting up the balcony shall add to the coziness of the space even at night.
The most important idea on Modern balcony designs that we can give you is adding your own personality to the space. Nothing can be a better balcony design than the one curated by professionals, just for you.
We have the best interior designer in Kolkata as our team at Eyesight interiors. And we would love to make you a beautiful balcony design in your home.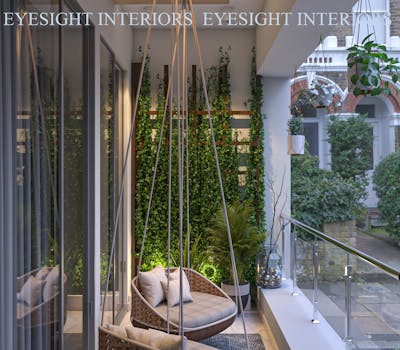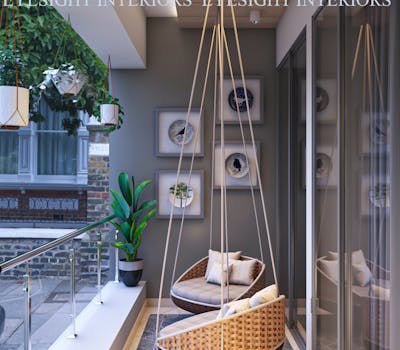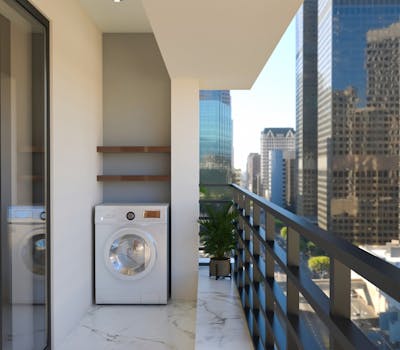 Have an Query? Get free Quotation