A unique character of a typical Indian household is a Mandir. While a bedroom gives you relaxation from tiredness. The mandir in your home is the corner, where you can seek for spiritual relief. 
The best interior designer in Kolkata, Eyesight interiors, have come up with some awesome inspirations for the perfect Mandir design in home.
Before that, let us look at the checklist of the factors that determine the mandir interior design for home.
Vastu
The vastu suggests that the positioning of the puja room shall be anywhere between the east and north side of the house. The 'Ishaan Kon' or the north east is deemed auspicious in the indian culture.
Size
Some houses may have an entire room dedicated to worship. While some houses have a small corner, especially of their living rooms for the purpose. This determines the size of the mandir required in the house.
Material
You may choose from an array of options of woods and stones for the perfect mandir of your home. This usually depends on the decor of the rest of your home.
Safety
The mandir is usually a space where lamps and incense sticks are lit most of the time. So this place is quite prone to fire hazards, if not designed properly. 
Beautiful mandir design in home ideas
Royal stone beauty.
A white marble is the most royal looking material. A pure white marble altar can be a showstopper as a mandir design in living room. The elegant white stone radiates a serene vibe. This is perfect for the soothing effect that meditation calls for. Apart from marble, you may also use other stones to build up your prayer area.
Wooden karigari
A prayer platform made of wood and decorated with rich wood carvings brings a sense of heritage to the space. A cheaper alternative to the marble mandirs. Wood can be a perfect material for mandir interior design for home. With a brass bell and some sombre lighting, it can bring the perfect spiritual element into your house.
Closet mandir
This type of mandir is a perfect mimic of the pooja room concept. For a Small mandir design in home that allows you to devote an entire space for worship, you may always choose a closet style mandir. These mandirs can be made out of stones as well as wood. But make sure that the wood used has proper fire insulation treatment.
Hanging alter
Having a small apartment, which barely has enough floor space? The wall mounted hanging variants can be the best pick for your home. This is a trending Mandir design in home. This shall be the perfect for a small room and even for offices. They come in both wooden or stone alternatives. You may also choose to decorate them with small bell trinkets.
Do give us a call or visit our office for consulting about the best mandir design for your home.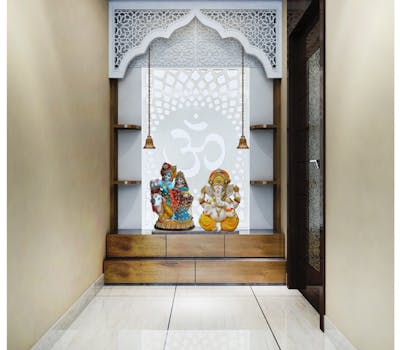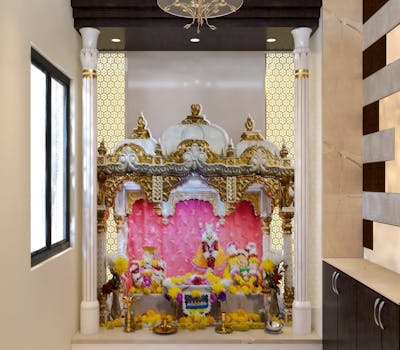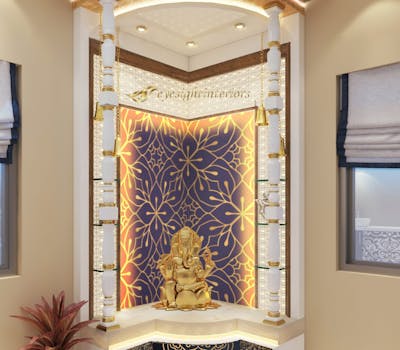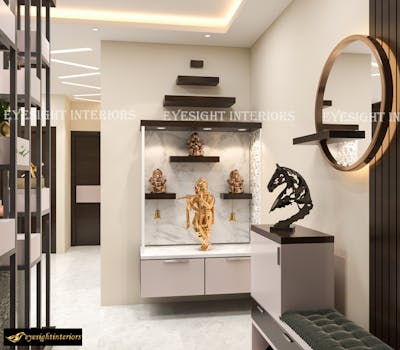 Have an Query? Get free Quotation