The personality of the entire house is reflected by the front door. It is that part of the house which sets the first impression in the minds of the entrants.The main door is an important part of your home. They provide security and privacy from the outside world. The main door design shall be in alignment with the architecture of your home.
There are certain things you need to make sure of while selecting main door designs for home.
Exterior grade wood
Doors should have a weatherproof coating 
An entrance porch protecting the doors is ideal
With the above checklist of must-haves, you may seek some inspiration from the ideas we have suggested for the perfect front door design for home.
Amazing main door design ideas
Panelled Doors
Of all the front door designs, the panelled ones  and the flush doors are the most popular in India. Though they are simple, if you manage to style them properly, they can prove to be statement pieces for your home. So do check your contractor for all the amazing panelled doors to go with your home entrance.
A statement door handle/knob
A unique door handle is often enough to make a lasting impression. The modern design of this door knob shall add a contemporary hint to the front door. A statement brass or other metallic door handle can go a long way. 
You never know, when it may initiate an entire evening`s conversation.
Synthetics
If you are an eco conscious person. And if using wood for your home building is an absolute nay for you. You may consider synthetic materials which are as beautiful as wood works. There are melamine main door design, which imitates the texture of wood. They even cost a fraction of what wooden doors would.
Art panels
If you are a die heart art lover, these doors may be the perfect reflections of a piece of you. The painted glass panels add a character to the beautiful tweak wood doors. Your visitors are gonna get a glimpse of your taste right from the entrance.
Frosted glass doors
A simple wooden paneled door with one panel of designed frosted glass. The beautiful floral motif on the glass panel adds a hint of sophisticated simplicity. We can swear by the elegance this piece shall proliferate.
Sliding doors
This is another one of the trending modern main door designs. A sliding glass panelled door at the entrance can be a perfect space saving alternative to the conventional hinge doors.
And this is just like a drop from the entire ocean of awesome front door designs available.
The Best interior designer in Kolkata, at Eyesight Interiors would love to add life to your entrance.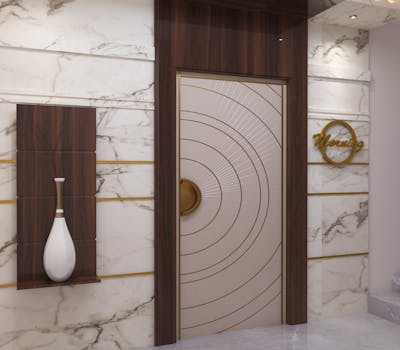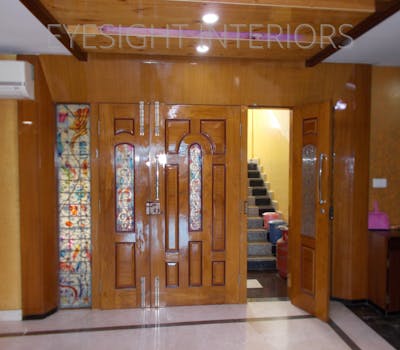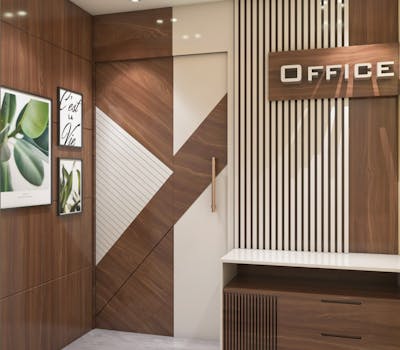 Have an Query? Get free Quotation