A space's design is important for any room, but it's particularly important for a bathroom. Being the Best Interior Designer in Kolkata, at Eyesight interiors we have come up with some innovative bathroom interior design ideas. If you're planning to get a Bathroom Interior Design done, here's why this should be at the top of your priority list.
The majority of bathrooms pose a challenge. They're typically the smallest part of the house, but they get the most activities. Making efficient use of this space so that it satisfies all those activities and requirements of the entire family demands careful modern bathroom design for small places.
Bathrooms that are stylish and well-designed are a good investment and may raise the value of your house. Houses with modern luxury bathroom design are highly appreciated by prospective purchasers if you're planning on selling it in future.
Fixing up your bathrooms every now and then may be costly and tedious, so it's better to get it right the first time with smart Bathroom Interior Design to extend the life of your bathroom.
Designer bathrooms aren't only attractive or long-lasting. When excellent bathroom interior design ideas are used in contemporary bathrooms, the area may be easier to clean and maintain. You may choose the extent of maintenance you're comfortable with in this area by carefully selecting materials, flooring, wall treatments, and worktops.
Modern Bathroom Interior Design Ideas
Here are some of the popular ideas that we, as interior designers in west bengal prefer:
Modern, mid century bathroom
This aesthetic type emphasises elegance, simplicity, and smooth & crisp lines. 
A mid-century bathroom has a classic and timeless elegance that will be just as fashionable a generation from now as it is now.
Color and finish options are almost endless, giving you a lot of versatility. Sinks, vanities, baths, and mirrors that fit with the mid-century modern style are plenty.
You can refresh the look of your mid-century modern Interior design of bathroom in a few years by altering the accent colours, furnishings, hardware, and other little touches.
A Minimalist Delight
Even within relatively big modern homes, tiny bathroom rooms are unavoidable. It's very normal and logical that you choose your lounge room or main bedroom to take up the majority of the area and leave the smallest amount of space for your washroom. However, this does not have to imply a compromise in terms of the design and peacefulness of your bathroom.
Clean lines, fewer items in the area, sleek fittings, and expressive layers are all characteristics of minimalist  Bathroom Interior Design. The style is refined, fitted, and soothing. Some individuals are foregoing hardware entirely in favour of sleek built-in handles.
Tiles have it all
Tiles don't have to be white subway rectangles in a row. At present, fun patterns, colours, and motifs are in fashion. People are rejecting basic white and beige in favour of brighter colours and quirky details, sometimes even blending varied pieces. It's just a matter of not going over the top. If you're looking for a strong look, be sure to pair it with some soothing natural colors.
At Eyesight Interiors, you can rely on our skilled professionals to create magic out of the smallest washroom spaces!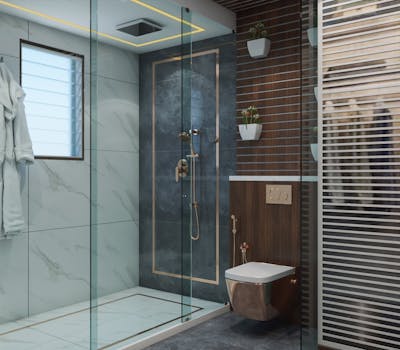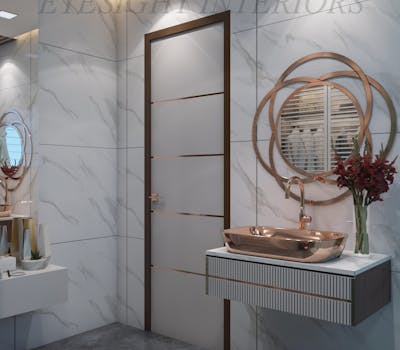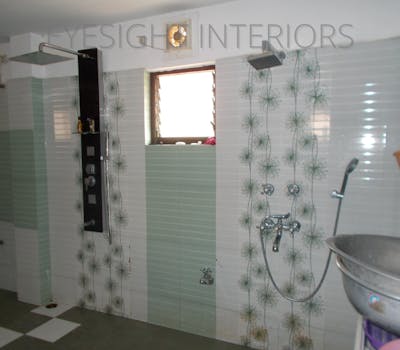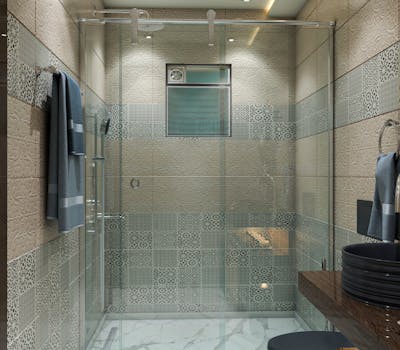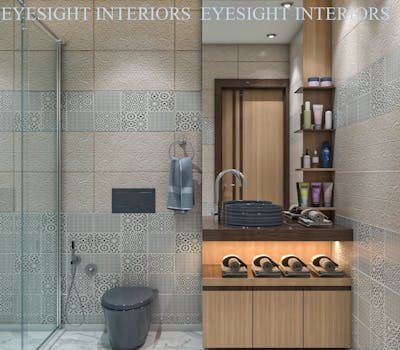 Have an Query? Get free Quotation