Importance of Banquet Hall Interior Design
We Indians always have reasons to celebrate. Wedding receptions, birthdays, corporate dinings, awards ceremonies, and many more. As the circle of friends and social responsibility continue to expand, people don't just want to make these moments their own special experiences. But also for your guests. Therefore, a banquet hall has become commonplace in our society. And in most cases, the only criterion for choosing one of them is a stunning banquet hall interior design.
Best interior designing company in Kolkata, Eyesight Interiors provide stunning interior design services to enhance the appearance of your banquet hall. Visitors will notice your modern banquet hall wall design, you better leave a lasting impression. We make sure that your customers are mind blown with the facility and book the venue immediately.
Banquet hall interior design ideas
The Interior design for the banquet hall includes space planning, design, layout, and development. The design concept of the hotels are rooted in the vision of hospitality to their clients. We create a modern and exquisite hotel design with the participation of architects and designers. Qualified civil and environmental engineers, interior designers, and skilled craftsmen. Hotels operate, with the motive of providing a welcoming atmosphere. This keeps their guests comfortable while working, playing, and relaxing. We aim to serve this environment with our designs
Luxury factor for special occasions
All celebrations in the banquet hall are special in one way or another. And customers cannot be satisfied with anything but the best function hall interior design. This is why our banquet hall decorators work day and night. To find the perfect combination of colors, textures, and materials to make the room more attractive.
Enhance the excellency of the banquet hall interior design
We additionally recognize the way to boost the excellency of the surroundings. Through the means of the usage of different factors. Precise style, colour, mood, harmony, contrast, comfort, convenience & traits of furnishings, furniture, lighting, carpeting & ground covering, paint & wall covering, glass, wrought metal, fixtures, art & artifacts, furnishings, fixtures, lighting, curtains of various fabric substances are the several factors play in making plans the indoors layout of Banquet Hall.
We aim to incorporate a balance. Especially using artwork, technology, and shape. function, beauty and purpose, imaginative and prescient and result. This ultimately allows in growing a heavenly experience in the vicinity wherein anyone would like to get their activities organized.
We provide indoors layout offerings for different types of venue spaces, for indoor and under sky events and functions.
Every desire of your mind shall be considered with utmost care. And will be carried out in line with the factors along with retaining the vibrancy of the surrounding.
We not only aim to develop a banquet hall that can host as many guests but also cater warm hospitality to each guest. Feel free to come in touch with Eyesight interiors for designing your property.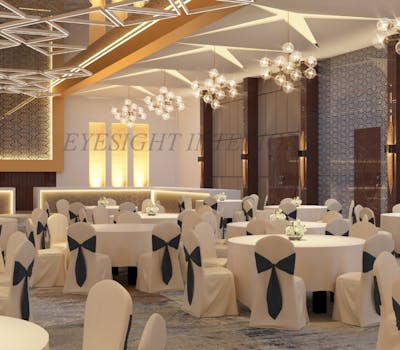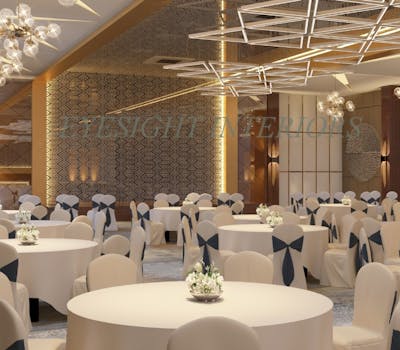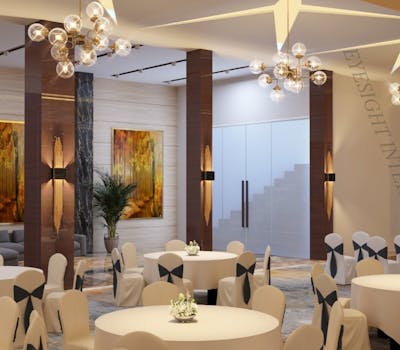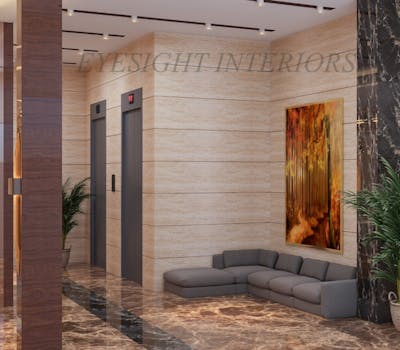 Have an Query? Get free Quotation