Bengali Style Nautical Decor Bathroom Ideas 2021
How Can You Get A Nautical Decor Bathroom In Your Bengali Home?
Be it a short weekend trip to Digha-Mandarmoni, or a snaan jatra trip to Puri, or a Boro diner trip to Andaman and Nicobar Islands. Bengalis are avid admirers of the sea. And when it comes to having your bathroom designed by the best interior designing company in Kolkata, and that too in a Nautical Decor. Being a sea lover, you are sure to love the idea!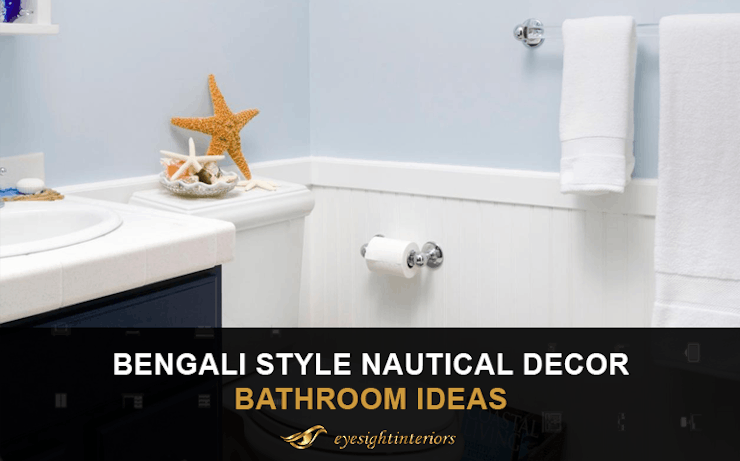 You don't have to live near the sea to have the nautical decor in your home. That's because a nautical-themed bathroom will give any home, even if it's on land, a beachy vibe. Are you willing to embrace the risk? Painting, fittings, and decor may all be used to create a Nautical Decor Bathroom that will make even sailors envy.
Eyesight Interiors, the Best Interior Designer In Kolkata, will show you how to include certain elements to transform into a coastal retreat with Bengali Style Nautical Decor Bathroom for refreshment and leisure through this blog.
Colours 
From the turquoise waves of the sea to the ships, nautical décor evokes vivid memories of sea life. Blue accents are the primary move through crafting your fantasy marine bathroom. The simplest way to do this is to paint your walls in the marine shades of blue to match the ocean's hue. Individuals may pick from a variety of blue colours, depending on how intense they want their blue to be. Apart from the walls, cyan tiles may be used on the bathroom floor and in specific areas of the walls.
Bulls Eye
The pinhole, often known as the bull's eye, is among the most distinctive characteristics of vessels. This is the ship's round window, which lets light and air in. Choose circular mirrors that mimic the porthole for your restroom mirror. Ensure the mirrors have identical casings to the porthole or frames with nautical patterns such as a ship's steering wheel to further enhance the maritime atmosphere in the bathroom. To create the illusion of a bullseye, gazing out into the vast sea, in your Nautical Decor Bathroom, you might install a non-reflective mirror that instead holds an image of the marine backdrop.
Accoutrements
To finish the naval atmosphere in the restroom, there are a variety of nautical themed bathroom accessories to select from- Anchors, vessels, masts, steer handles, ringed lanterns, small stones, and seashells are examples of sea accoutrements. With different hues of bright red, orange, yellowish, and greens, these accessories might also be a wonderful way to add a pop of colour to your bathroom. It's as simple as bringing the sea inside your bathroom to create a nautical bathroom design. The major goal is to build a retreat that perfectly reflects sea life.
Now, how to combine all these 3 components properly for your perfect Nautical Decor Bathroom?
Here are some awestrucking nautical bathroom decorating ideas, for you to seek inspiration from. 
A statement wallpaper.
Along with following a colour scheme for the wall paint, there are a few more things, if incorporated, will accentuate the nautical vibes in your washroom. Just like this painting of the sea and vessels. Seems as if a huge window opens into the sea. Enjoy a hint of marine life, even while doing your business.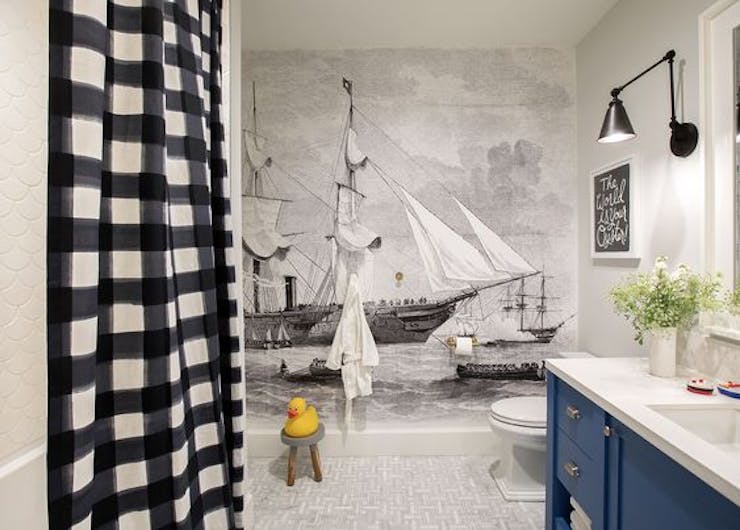 Patterned walls.
Instead of adding a statement wall to your decor, why not add a theme to all the walls? In this design, the engineering drawing accents add a submarine like vibe into the space, which is sure to make any sailor feel nostalgic of work.
Nautical fabrics.
Next to the wall decor, comes the tits and bits that bring out the vibe from a Nautical Bathroom Decoration. In this context, How about these sailor and navigation themed shower curtains?  I think these pieces perfectly complement the nautical washroom.
And what about this Giant octopus printed curtain?
Beachy doormats.
You may also add a beach like doormat at your bathroom door. This shall definitely feel like wiping your feet on the beach sand entering or moving out of your nautical bathroom. These realistic doormats are very much on trend these days.
Corals and Starfishes.
Besides the bluish walls, nothing could bring out the feel of a marine setup better. Scattering seashell and starfish like accoutrements, while organizing your bathroom shelves can be one of the best nautical bathroom decorating ideas. You may further go for a mirror framed with shells, conch, coral and more.
Towel holders.
These rope towel holders can be another wonderful item to add to your Nautical Bathroom Decoration. Ships, anchors, and the sea can be very well reminiscenced from the rope accents. Besides, what can be a more cost effective and innovative idea to replace the expensive wood and metal holders?
Door cloth hangers
You can get further innovative with selecting the pegs to fit behind the bathroom doors to hang clothes. These statement anchor-like pieces caught my eyes today. With the wooden doors, these rusty anchor pegs shall make a very much Nautical decoration for bathroom.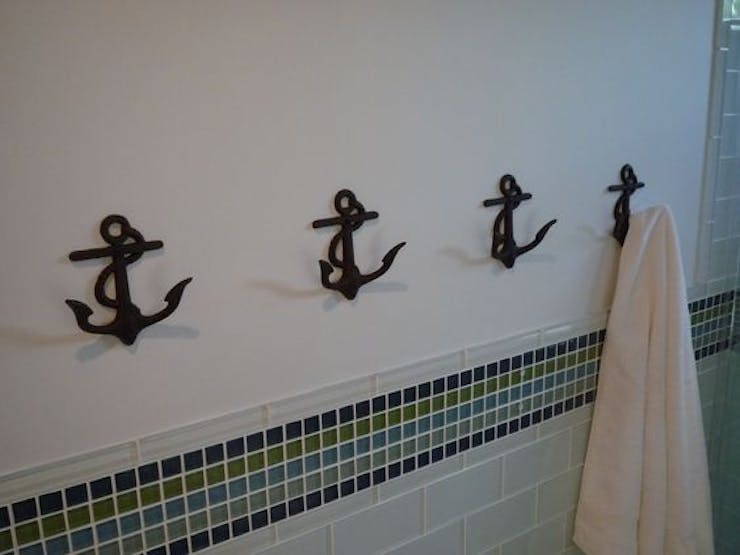 Storage
To add a more rustic sailor like vibe, you may use wicker baskets for storage. These aesthetic wooden cabinets with the drawers built out of cane baskets shall add perfectly to the nautical bathroom decor sets. Giving the wooden cabinet a dusty turquoise shade has further amped up the marine vibe of the piece.
You may even use up some old wooden crates to make shelves. Then display your bathroom vanity with shells and corals decorated on them.
Floor designs
These navy blue tiles shall also add to the marine vibe of the bathroom.
Moreover, the realistic epoxy flooring has taken Instagram by storm these days. You may also go for a sea or beach epoxy flooring for that realistic Nautical Decor Bathroom.
Have an Query? Get free Quotation