How interior design affects our lives- 10 amazing facts
Busting How Interior Design Affects Our Lives
Interior designing had been a very underrated part of building homes for a long time. The major difference in the aesthetics of a space designed by top interior designers in Kolkata and an undesigned space can literally be felt instantly! This is what makes Interior Designing such a buzz profession today! And through this blog, we have elaborated on how Interior Designing brings efficiency to the purpose of each space.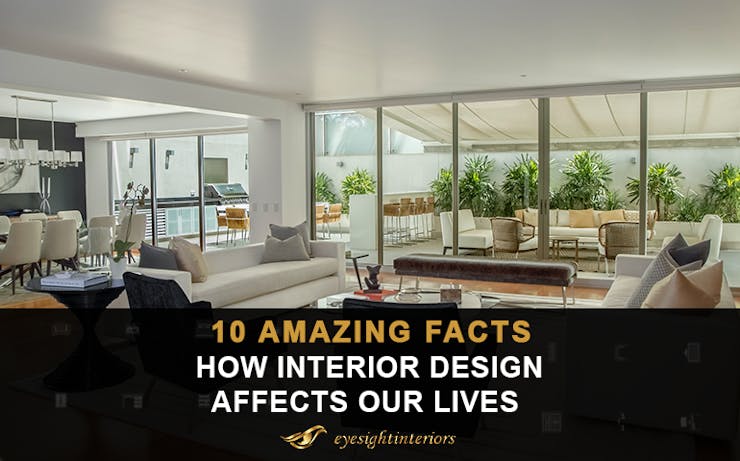 Designing interiors has become very common and has gained popularity in the entire world. It is now a very trendy profession and you can see people getting fascinated about their interiors. There are several interior designers in west Bengal that can precisely design your home the way you want. 
Now, the question arises how interior design affects our lives? Well, to keep yourself smart or look classy is not enough, people have now engaged in keeping their interiors classy and elegant as well. 
The modern generation has not only changed their taste in fashion, clothing, and many other things but also has put an impact on interior designing. Designing is not only for clothing lines rather it can be for home interiors, offices, restaurants. So here are some facts that interior design affects our lives.
1. Making proper use of Space
The best interior designer in Kolkata has this wonderful talent in creating and beautifully decorating your space into something unique. They know the proper usage of the space for your home. Space is very important in a room as the more room you get, the more you can well decorate the space. With a good amount of space, you can entirely decorate your room very precisely. For example, you can make your dining room very decorative and place a beautiful Chinese cabinet made of red cherry wood which can attract customers. By hiring an interior designer you can have such beautiful ideas for your room.
2. Brings life to your room
Normally the designers first set a theme for your space and work accordingly. They will surely bring a sigh of relief as you will not have to worry about the space and its design. They will properly set the things up in your room with different designs and colors. These interior designers can bring new ideas to your room and make you feel satisfied with their work. You will surely not regret hiring an interior designer for your room. You will get to see the works being done with complete perfection.
3. Selection of Colours
The home interior design of Kolkata has some good ideas on how colors put a psychological impact on your moods. They can give you the perfect colors for your interiors. The colors which put impacts are:- 
Neutral Colors
Brown and white are neutral colors. Brown is related to mind stability whereas white represents purity, goodness, and cleanliness.
Warm colors
Colors like red, pink energize the mind. Red represents fire, love, and anger. In some mythological beliefs, it is said that it brings fortune. Pink represents happiness, love, and peace and it is a girls' favorite color. This can be a perfect choice for a children's bedroom.
Cold colors
Blue and Purple colors are cold colors. Blue represents confidence, openness, and stability. It is generally colored in living rooms and a boys' favorite color. Purple represents luxury, ambition, creativity, and wealth.
4. Making your living and dining space unique
Living or a dining room is where gatherings occur. With the help of an interior designer, you can make that space attractive. You can insert some paintings on the wall or insert indoor gaming boards so that you can play with your friends and even hang them as a design to your walls. By their innovative ideas and design, they will make you impressed with the work done in your space. If you have a big living or dining space then, they will be able to create a beautiful set-up for your space. But if you rather have a small living or dining space then you need to get tense about the matter as they very well know how to decorate that small space into something innovative.
5. Setup of items of Furniture
Sectional Sofa
These sofas are generally multi-piece sofas that come in U or L shaped. This design is inspired by the Victorian era and has grown massive popularity as they are seen in most of the living rooms.
Chesterfield
It is also a very unique piece of sofa design which is mostly used by the best interior designer in Kolkata. Its signature element is that the back consists of pillows that are separate from them. It is a design inspired by the 20th century and is specially designed for comfort.
Mid-Century Modern
This design was popular during the mid-1930s to mid-1970s. It was famous for its minimalist and simplicity. It was lost somewhere but it's coming back to give your living space a different moderation.
Loveseat Sofa
The loveseat sofa is made for two people. They are a part of living rooms. They are specially made for small living rooms.
Tuxedo Sofa
This sofa design was first seen during Edward VII,  Prince of Wales in 1856. They are also like a loveseat sofa. They have high arms level with the sofa back that cuts straight across.
Low-Seated Sofas
Another beautiful and unique design of a seated sofa is low-seated sofas. These are used in different rooms such as a living room, family room, bedroom and they pretty much fit everywhere.
Sleeper sofas
These sofas are well-designed to give a good sleeping solution. They are very easy and convenient to use as you can use them as a sofa and when you will feel sleepy you can pull it out.
Multi-sofa lounger
A multi lounger is a sofa kind with more than one lounging extension. These suites are large living rooms where you can place a lot of guests into such sofas. 
6. Attractive for Visitors
You will get to see the common things in interiors if an interior designer is not hired. To grab the attention of your visitors you can hire an interior designer and you will see the magic of how it changes your room into a beautiful space that you have ever imagined. In this way, you can impress your guests and friends. The interior designers have an entire collection of designs which is one of them that can match your based theme.
7. Within the budget
Every interior designer works according to the budget. In most cases, it is seen that if it's done without an interior designer then, it mostly ruins the space, and loads of money gets wasted. Some materials or stuff gets used up which is not even necessary. These interior designers are very skilled and they know well how to use the money on specific furniture. Even if you have a small budget they will surely decorate your room with the finest design.
8. Wall Decoration
To decorate walls is another important task to complete. In the market, we get to see several setups of walls. You paint your walls or do some paintings, which we call wall paintings and they are mostly on-trend. The best interior designing company in Kolkata has this amazing talent to paint walls with beautiful designs of floral, animal print, and other things. You can even add a photo frame of yours or your family to your walls. You can even keep a wall for taking selfies whenever you want to. You don't need to go somewhere else to take photos.
9. Relaxing atmosphere to your room

Interior designers are excellent in providing great and comfortable material to your rooms. They know well how to change your mood and keep your personal space to some level of comfort. If you have some space outside your house you can get a garden there and all these are beautifully managed by the designers. When you come home after all that stress from work you can get a sigh of relief and enjoy your personal space. They know how to create a relaxing atmosphere for your rooms.
10. Using Some Elements of Good Home Energy
Many designers believe in using some good elements in the house. These are believed to bring good energy. Like, Feng Shui is known for good home energy and is known to be practiced for over 3,000 years. It is said that applying those theories helps to attract good luck, success, love, and positive energy.
 You can even add a laughing buddha to your home which is highly believed that if one rubs the belly of the buddha then, it brings good luck and wealth. There are other elements like Elephants, Horseshoe, and other things that are mostly seen being used. They not only bring some positive energy to rooms but also give a unique look to space. 
From the above-mentioned information, you can get to know how interior design affects our lives. Top interior designers in Kolkata know very well how to impress their customers. 
Without an interior designer, it's quite impossible to set such a big plan. As we are careful in selecting our clothes, dressing up, we should also be careful in designing our interiors. The money you are investing must not go to lose and the materials used should be long-lasting and beautiful as always. 
Have an Query? Get free Quotation