Great Ways To Decorate Home With Plants
Importance of Interior Design With Indoor Plants
Be it filtering the indoor air, or reducing stress and anxiety, keeping minds calm, or helping us focus better. The benefits of indoor plants are endless. However, adding just any plant to just any space in the interiors doesn't do. Top interior designers in Kolkata know exactly how to add those lushies into your home decor, including the corners of your living room, or by the window of your bedroom.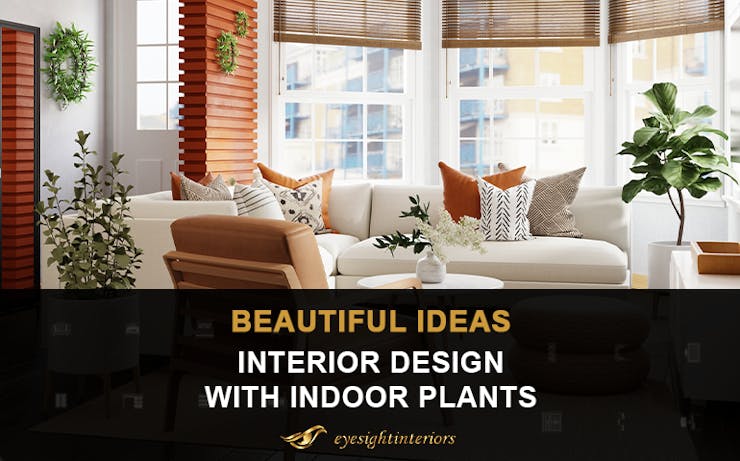 Plants can be an effective medium to beautify your home. Indoor plants not only freshen up your spaces but also make your home healthier. Indoor interior design with plants inside the house would add life and color to your home, while also establishing a close connection of you with nature and thus improving your quality of life. 
When Beth Ditto said, "A beautiful plant is like having a friend around the house" he was indeed truthful. When plants bloom inside your house, so does hope.
Including a healthy amount of plants in your home will not only add up to the aesthetic value of your home interior in kolkata but will also aid in keeping the home air healthy and improving air quality by reducing toxins. Adorning your home with plants will induce a healthy lifestyle and a better sleeping pattern. Studies have proven that having plants around oneself is extremely beneficial in lowering the stress level at times. Treat your plants like your companions and they will surely reward you. 
3 things to keep in mind while opting for interior design with indoor plants
i. Analyzing your space :
One of the most important aspects of interior decoration with indoor plants is to analyze your space. Try and understand the strengths and weaknesses of the different corners of your home. It is essential to focus on those parts of the space that needs to be brightened up.

ii. Choosing the best spot :
Have a tour of your home to particularly emphasize on looking at the spaces from different perspectives. This would make it simpler for you to choose the right spot for setting up your plants. The perfect spots for your plants to grow will be the ones where they would be able to obtain maximum sunlight. 

iii. Determining the combination :
You should not forget that while determining how to decorate your home with indoor plants, you also have to make sure that the plants you choose, harmonize with the other elements of your home like the furniture, wall arts, etc. This would create a commendable combination of both the interior design and indoor plants.
10 best categories of plants to make your home look inviting
Non-flowering Plants
i. Parlor Palm :
Parlor palm is one of the most popular palms for indoor growing. It makes your home look like a tropical paradise. It is very hardy and easy to care for. 
ii. Bamboo :
Bamboo is widely grown as an indoor plant and is mostly known for its symbolism of luck. Most people believe that planting bamboo at home adds to the prosperity of life. 
iii. Fiddle Leaf Fig : 
Fiddle leaf fig is the plant that adds a whimsical and fantastic touch to your space. Apart from adding a style element, it also adds a great deal of personality to your home. 
iv. Boston Ferns :
These are excellent houseplants that make way for gorgeous hanging plants. Boston ferns need less water and do fine in low light than most other houseplants. 
v. Dracaena Warneckii :
These plants have stripes in various colors that make them look colorful. With occasional care, they will grow pretty well and end up decorating your home with vibrancy.
Flowering Plants 
i. Desert Rose : 
Desert Rose is known for its amazing caudex and colorful flowers which make them look desirable. Its glamour is incomprehensible and with the right nurturing, it can grow pretty well.
ii. African Violet :
African Violet grabs eyeballs due to its stunning foliage and impressive colors that make it an amazing houseplant. They need proper caring in order to bloom beautifully.
iii. Bromeliad :
As an indoor plant, Bromeliad makes a colorful and architectural statement. With proper lighting, watering, and fertilizing, Bromeliad can bloom for a very long time.
iv. Cilvia :
An uncommon and perennial houseplant Cilvia blooms in varying shades of red to orange. These plants grow for many years and are up to three feet tall and wide. 
v. Hydrangea :
It's simply an overwhelming acute cluster of small flowers blooming in full unison. Hydrangea adds charm and an exquisite taste to your interior styling.
9 essential tips on how to decorate your house with indoor plants
1. Grouping the plants in the right manner is essentially important because plants are better together. 

2. Organizing the placement of tall plants, medium plants, and short plants in a sequential manner would be truly eye-catching and praiseworthy. 

3. It is important to choose which plant can be kept inside the house so that it causes no damage to your property and furniture, does not take up a lot of space, making you feel inundated.

4. Screwing up walls and shelving can be avoided by choosing tall and narrow plants that are ideal for corners. 

5. Using overlapped hanging vines over furniture, tables, fireplaces that elegantly transform their looks and adds an extraordinarily beautiful touch to the furniture. 

6. Selecting the right color scheme of plant pots can make the green plants look way more colorful and raise the aesthetic quotient of your rooms.  

7. While opting for a living room or dining room design with indoor plants, make sure that you use tall plants from both the flowering and non-flowering categories. Tall plants are ideal for the corners of your living room.

8. Room decoration with indoor plants, especially the bedroom interior, can be decked up with small and medium plants on the shelves, near the windows, or on the floor.

9. Not forgetting about your washroom or restroom, it can be simply adorned by hanging basket plants or overlapped vines. They will make your washroom look fresher than ever. 
If you still haven't included the aforementioned plants in your interiors, it's time to take a step ahead. Give the lustrous plants a chance to transform your home into a breathtakingly beautiful paradise. 
Have an Query? Get free Quotation