10 Easy Ways to Choose the Best Interior Design for your Dining Room
Choosing The Best Interior Design For Your Dining Room
Be it placing the table and other furniture rightly, or making the best out of your small dining space, or keeping the new refrigerator in the dining room correctly. The best interior designer in Kolkata shall help you get all those done perfectly. However, there are indeed many things that need to be kept in mind while you select your themes, preferences, and items for decorating and designing your dining room.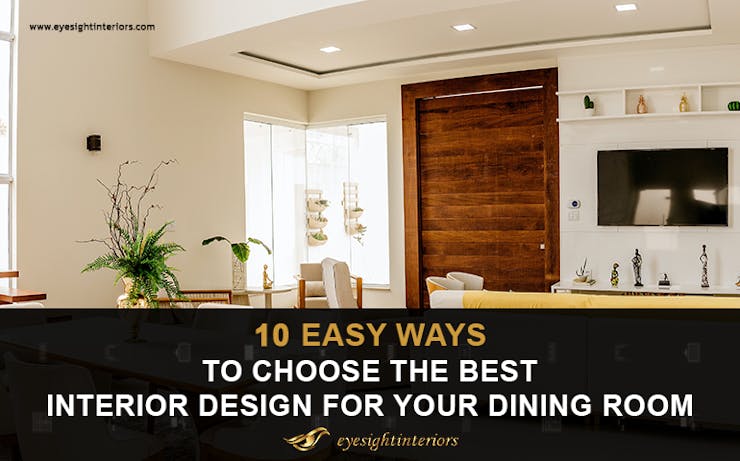 Dining Rooms is that perfect place where the proverb goes well is "Together is a wonderful place to be". It is the most desirable feature in a sweet home as it has some social space in the house to cherish family chit chats, gossips, and interacting with groups which create a friendly ambiance. 
Previously the dining rooms were an extended part of the kitchen and now modern dining spaces are a separate space and with the help of the best interior designing company in Kolkata, things have been changing with improvised new-age versatility.
But, before you make any move, let me share with you 10 easy ways to choose the best interior design for your dining rooms that will help you make your dining room visually and aesthetically appealing. 
1. Good Adequate Space
Not all directions are suitable for a dining room. It needs to get a sufficient amount of light, air, and enough comfort to sit, eat and spend quality time with your loved ones. 
If it is placed east direction, then the room can get natural morning light and if placed in southwest directions, then the room will be windy enough to be blessed with the surge of direct southwest winds and some glare.
A spacious dining room can be filled with plenty of stylish lighting options. Another essential thing is to have a place to display your best crockery sets safely and for that, you do not want to tuck these precious items away in your kitchen. With the help of the interior designer, they can create the gorgeous dining room that you're trying to create. If your dining room already has brown accents or a beautiful wooden china cabinet then you can easily fit it against the wall.
You can also turn the cabinet towards the dining table to help make your dining area feel like a room. A beautiful Chinese cabinet made of red cherry wood that's filled with your elegant dining crockery set can take the look of your dining room to the next level.
2. Different Format of Styles
For designing the dining space you will get to see several designs like, 
Formal setup 
The formal setups are usually of dark wood for baseboards and trim which is common because it has that feel of formality compared to the more casual mood associated with lighter, warmer-colored woods. This style includes other accessories such as glassware, flatware, and place settings. You will also observe classic lines with furniture that has sculptural details and some crystal chandelier style.
 Farmhouse Setup
The farmhouse style has a less formal look. You will often see heavy rustic furniture that has a sense of stability and reliability. White is the predominant color for painted pieces. Colour schemes often include tone down of greys, blues, and greens. Pieces often have signs of wear, natural elements like a vase of freshly cut flowers or a hanging basket with onions and vintage pieces are common.
Beach Style
The beach or coastal style creates an atmosphere of lightheartedness that brings a feeling of the sea to the dining room table. Blue and white are common colors for this style. Furniture often brings out a style of being repurposed with beautiful tones from the beach. Accessories in the dining room include themes such as buoys, lobster traps, boats, and oars. Patterns of the room will also carry a similar look with familiar elements such as anchors and starfish. It is an excellent style for featuring any unique mix-and-match pieces.
Rustic Style
The natural or rustic style makes the feeling of being close to nature. You will get to see furniture and accessories that are rough and heavier. The accessories have an outdoor or woodsy theme that applies to artwork, photographs, and light fixtures. The rustic style often includes such 
pieces that create a sense of nature that can improve your mood and reduce stress.
Pub Style
You can get a nightlife-style in your house by adding a pub-style theme to your dining space. This style brings it to the table in a unique way.
1. Having a high-top table, small or large.
2. Accessories and features that will create a sense of being in a restaurant or bar will heighten the level of your dining room.
3. You will receive design elements of a mix-and-match flavor. 
4. Premium glassware and bar accessories play a part in the decor of the room.
5. The worn pieces give the sense of a perfect neighborhood hangout
Contemporary Style
The contemporary style dining room is about the prevailing updated ideas of recent times. Some people confuse it with the modern style simply because it looks new but thankfully top interior designers in Kolkata give it a new look. 
1. The modern feel that lacks a sense of the traditional look.
2. Unexpected design elements and features will uphold your dining room design.
3. Lines that will make a statement whether your dining room has a hard or soft tone.
4. The Flora and Fauna designs will uphold the beauty of your room.
Cottage Style
The cottage-style always conveys a sense of home. It is filled with softer colors and lines. Furniture in the cottage-style dining rooms is comfortable to encourage lingering and a long chat at the table. Dining room sets to match with always the furniture used in the dining space. It is one of the patterns of design that create a welcoming atmosphere.
3. Contrasting with Decorations and Styles
Mixing different colors with contrast themes in your small dining space then you should not overuse the colors and decor items. For adding a new look and a popular trend to your dining room you can use goldware instead of silverware. You can also go for black flatware where you will get that opulent look. Professional Interior Designer in Kolkata uses unique objects such as antique pieces or a vintage wall clock, wall hanging, or lamp that helps in making your dining room pretty. 
4. Placing Rugs
They have always been an important part of home decoration. Rugs help in adding a different look to the dining space. You can get different types of rugs design for your desired choice. 
5. Table and Chair Setup
According to the table design the chair must match with it. If an unmatched chair setup is done then it will destroy the whole dining space. There is another popular trend of using Ghost chairs in dining rooms. Using this material dining space gives you this luxury feel that it needs with a group of ghost chairs congregated around a stylish bistro table.
6. Colour
You can also create your dull and unimpressive dining room to be funny and interesting by adding a little texture to it. You can also use the color of your dining space that matches your curtains, accent rugs, and other prominent fixtures of the room.
A bold color will certainly make it beautiful, but neutral tones will always represent a more sophisticated and elegant look.
7. Theme
Using an old theme has become one of the best dining room decorating ideas for large apartments. This is nowadays trending in the themes of dining room that can give you an old-style feel in your home along with the advantage of being trendy.
You should also make a proper plan while choosing the theme for your dining room and choose one theme that enhances the interior of your home. When the theme is selected, then you can start with the decoration portion of the dining room. You can also choose the wallpaper that goes well with your theme. And finally, you can decide which is the most suitable dining furniture that will go with the style.
8. Wallpaper
A beautiful wallpaper makes a remarkable appearance in the dining room. You can use a fabric pattern that matches the wallpaper to create window shades that will continue the effect.
9. Ceiling
The ceiling is an important part that cannot be neglected. Interior designs in West Bengal pay careful attention to your ceilings and can transform an average, small, family-sized dining into an extravagant space designed to impress any guests that pull up a seat to the table.
10. Flower Setup
Some addition of plants or fresh flowers can be beneficial for decorating the dining room. A beautiful well-made flower arrangement can be placed at the center of the table to make it look elegant.
The best things about floral centerpieces are that they can be inexpensive to create and they often change, letting you give your dining room a whole new feel. Floral designs bring a fresh and beautiful look to the bedrooms.
Planning a dining room is not such a difficult task if you keep the above-mentioned tips in your mind. Good dining space will make a family member feel happy and cozy. Hiring an interior designer is extremely useful as they have lots of ideas and styles that create your home or workplace to look spacious and elegant. So whatever you choose, it should be done precisely and of course with the help of an interior designer so that you can make it in a proper way. 
Have an Query? Get free Quotation