Modern Bengali Bed Design Ideas 2021
Importance Of Bengali Bed Design
Setting up the most cosy and personal corner of your home, i.e the bedroom, you will obviously be wondering about the best Bengali bed design for your The Space! And when it comes to keeping the Bong vibe alive in your decor, here are a few beautiful and trendy bed designs that you should very definitely get designed with your interior designers in West Bengal.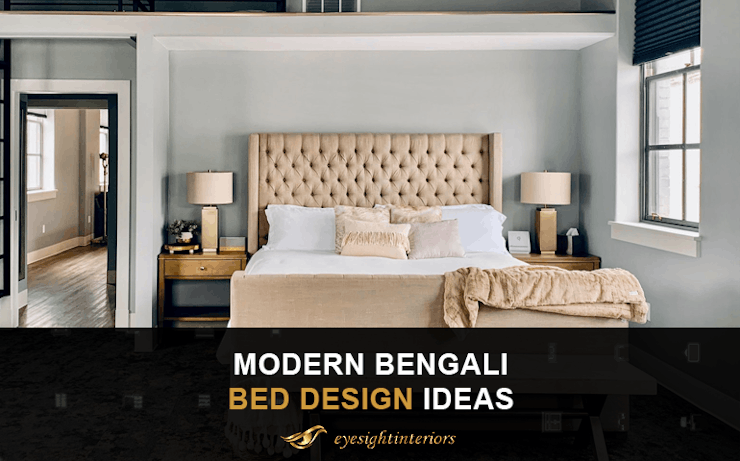 Here are a few of the best and the most popular Bengali bed design, for you to seek some major inspo for your Bong bedroom decor.
1. Modern Wooden Diwan Bengali Bed Design!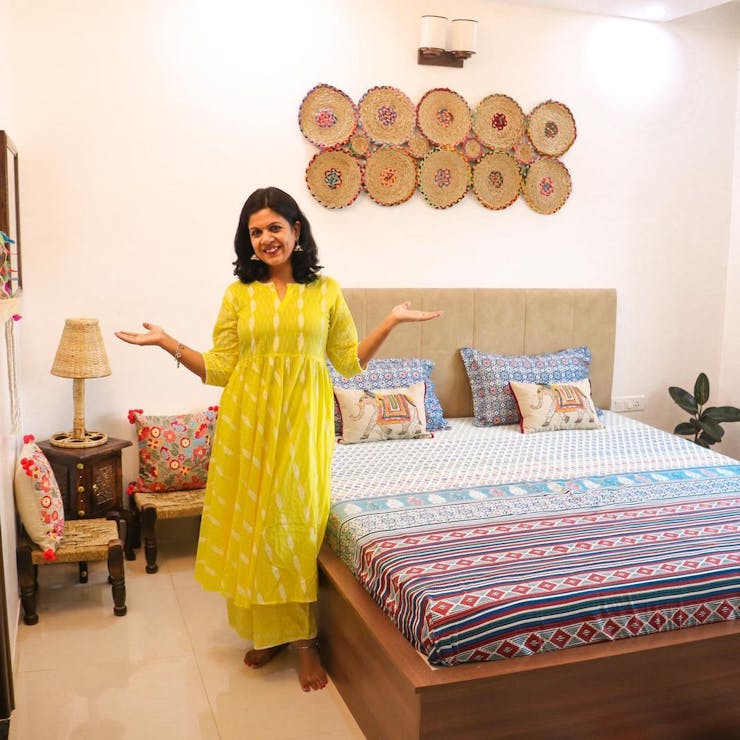 Bongs have always been known to curate storage out of the smallest corners of their home. In fact, the space under the beds of a quintessential Bengali bedroom is a treasury of a plethora of utilities. Be it a store to the trunks of 'sheeter lep katha' or extra bedding for guests, or even rarely used utensils, which our moms have often forbidden us to touch!😜 this Simple Bengali box bed design is something exactly what you might be looking for your simple and sombre bedroom background!
Recommended: 21 Best Bedroom Interior Design Ideas
2. Chique Box Bed With A Designer Headboard!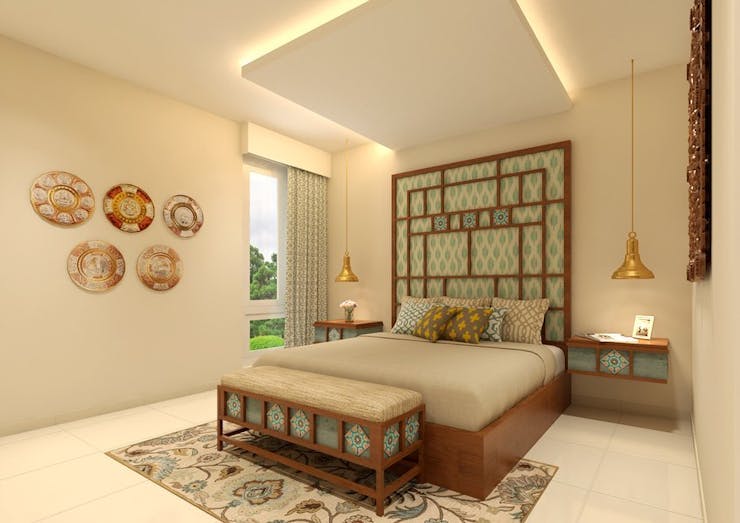 A simple Bengali wooden bed design with dedicated storage under it. This diwan design is a compact box bed with a plush and soft mattress. The light brown polish on the bed is perfectly going with the beige backdrop of the room, and the vitrified tiles flooring. The mint green fabric Headboard with a wooden frame in making the bed design look like a luxe affair. The luxe woollen carpet with beautiful designs is also adding to the aesthetics of the Bengali bed design set.     
3. Simple Chaarpaai Or Jol Chowki Bengali Bed Design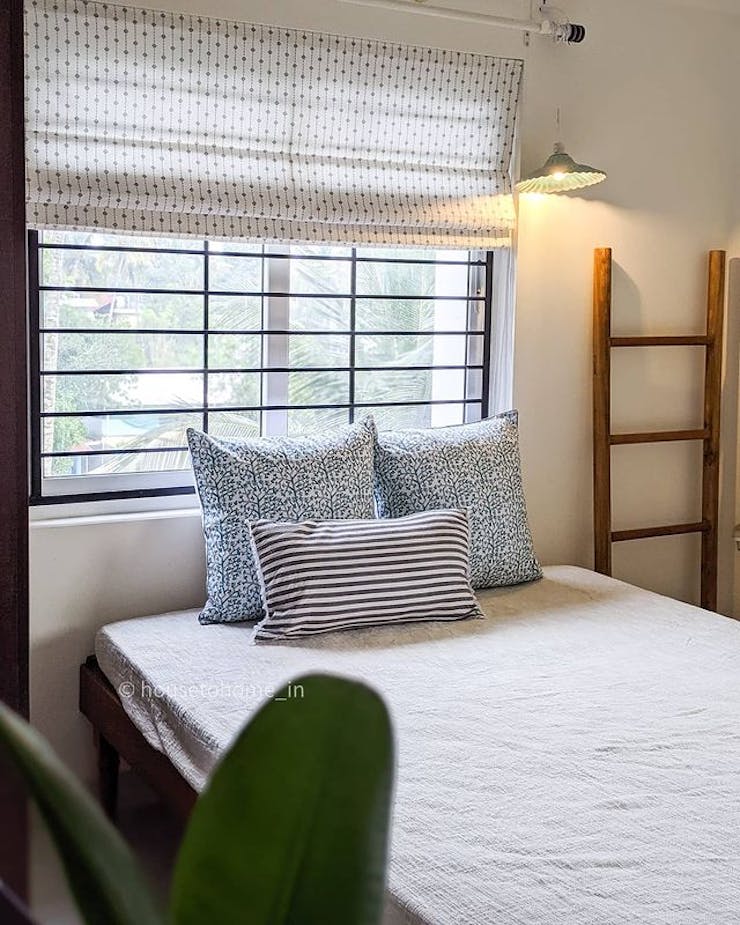 The traditional chaarpaai or Jal chowki is a very much Bengali thing. A simple wooden platform bed style. These simple khat design can make the bedroom interiors stand out by the work of the best interior designer in Kolkata. All you need to do is complete the look with some cosy mattresses. The chaarpai style bed here is beautifully decorated with some printed throw cushions and a matching bedcover. The fabric blind on the window behind the bed further accentuates the design.
4. Artsy Queen Sized Bed With Shogun Wood Carvings!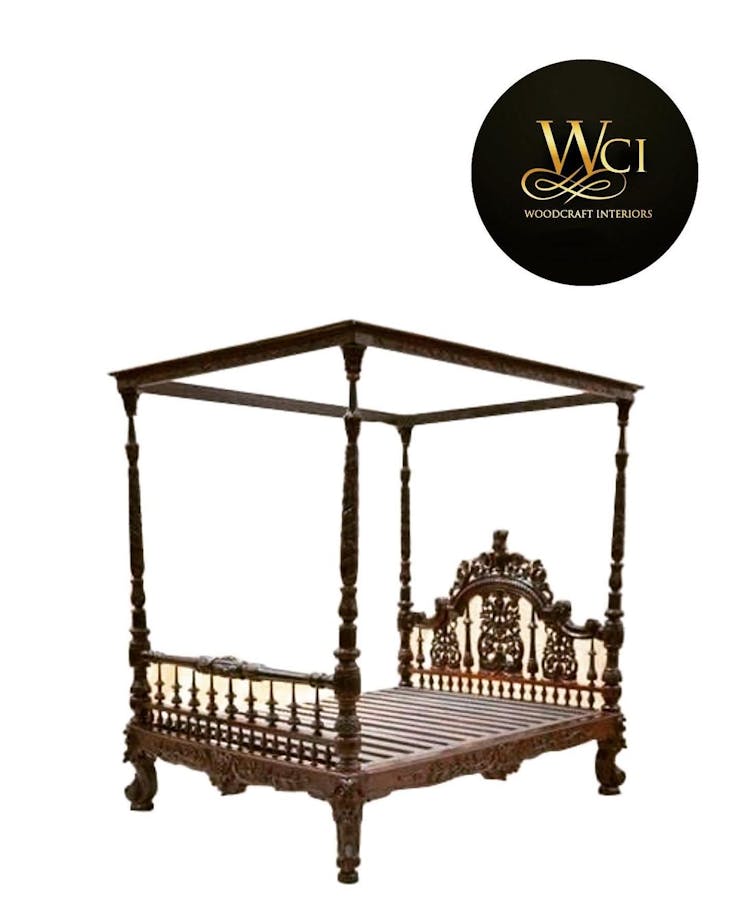 Bengali furniture traditionally is known for its beautiful OTT wooden designs. If you have grown up in an old Bengali household, then you are very likely to find similar beds in the rooms of your grandparents. The traditional wooden origami designs add a rich regal feel to the furniture. The wooden pillars and the frame on top are made to add sheer fabric like hangings that also add to the aesthetic of these Bengali bed design.
5. Traditional Cot Style Bengali Bed Design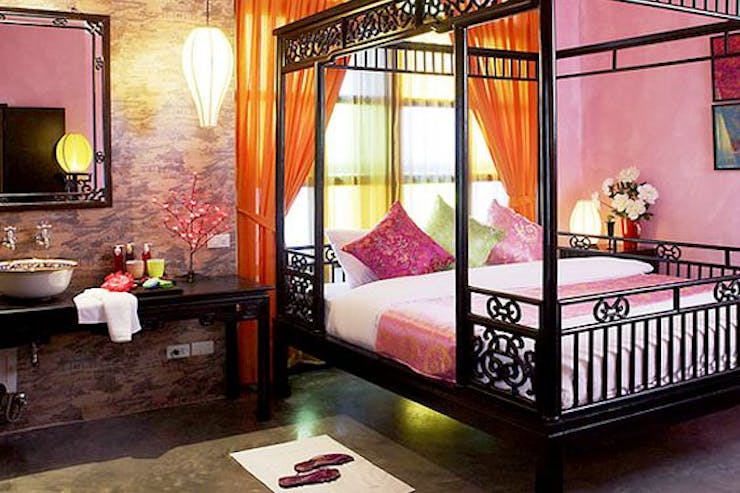 These cot style beds have been yet another favourite of a traditional and majestic bong bedroom. The intricately designed bed design seems to be a mini room inside a big room. The side rails give a special and more safety. Though these beds were made of extremely expensive woods, you may always go for some less costly alternatives. Your designer shall definitely be able to figure out something for you!
6. Modern Convertible Sofa Cum Bed Design.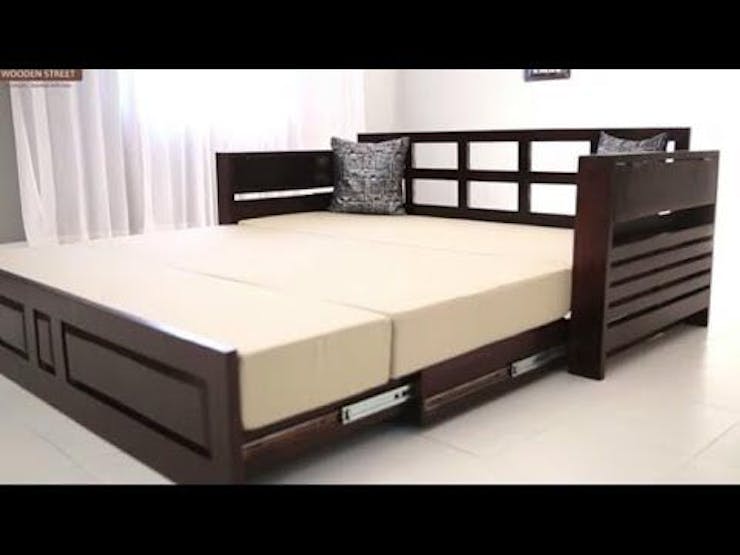 What if you have got a studio apartment on rent and want to decorate the space with some multifunctional furniture, then this Bengali bed design is definitely for you. A sofa cum bed definitely serves the purpose of seating for your living space and helps you to convert the area into a temporary bedroom when needed. This versatile wooden sofa in dark brown polish is indeed going to be a very functional piece to your bedroom decor.  
7. Traditional Segun Wood Carved Bengali Bed Design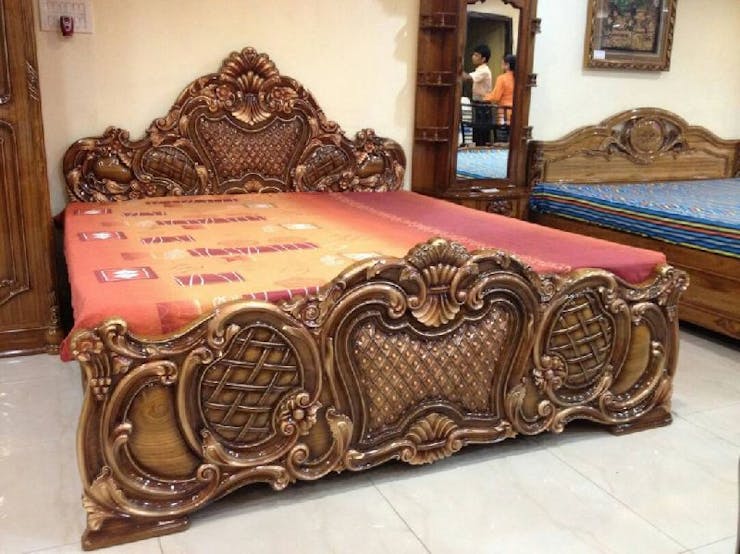 As we have already read about the fact of bongs being an avid lover of art and craft, designs like this is a very popular one among bong households today. An evolved and modified version of the traditional wooden carved bed designs. These are simple bong style box bed designs with beautiful carvings that are lesser expensive than the artsy heavy wood origami beds, and also give you a huge box storage space that is covered.
8. King Size Traditional Bengali Bed Design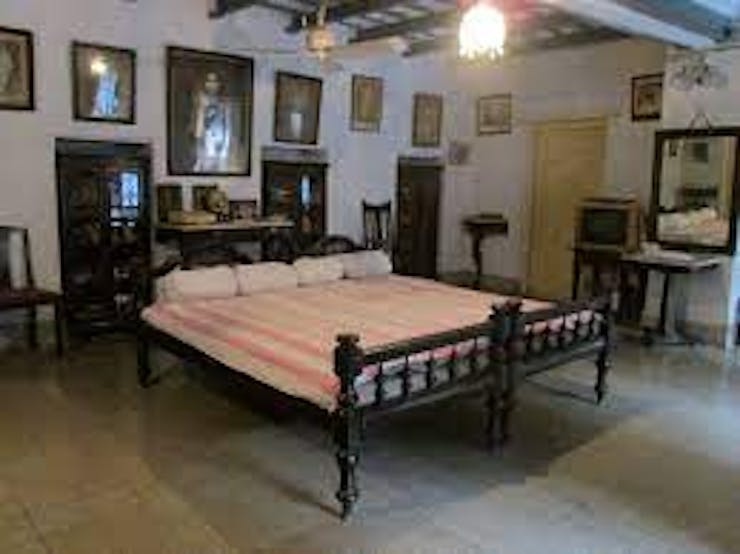 This beautiful and swabeki room decor with the huge King Size Bangla khat design is yet another very authentic Bong bed design. These beds are quite certain to make a bong child very nostalgic. The beds where we have probably spent afternoons giggling and laughing with our cousins during the summer vacations. Apiece of childhood that can be kept in that big bedroom of yours after renovation. The wooden framed ceiling, ceiling fan and every bit of this room are giving chills of nostalgia!
9. Drawer Style Box Bengali Bed Design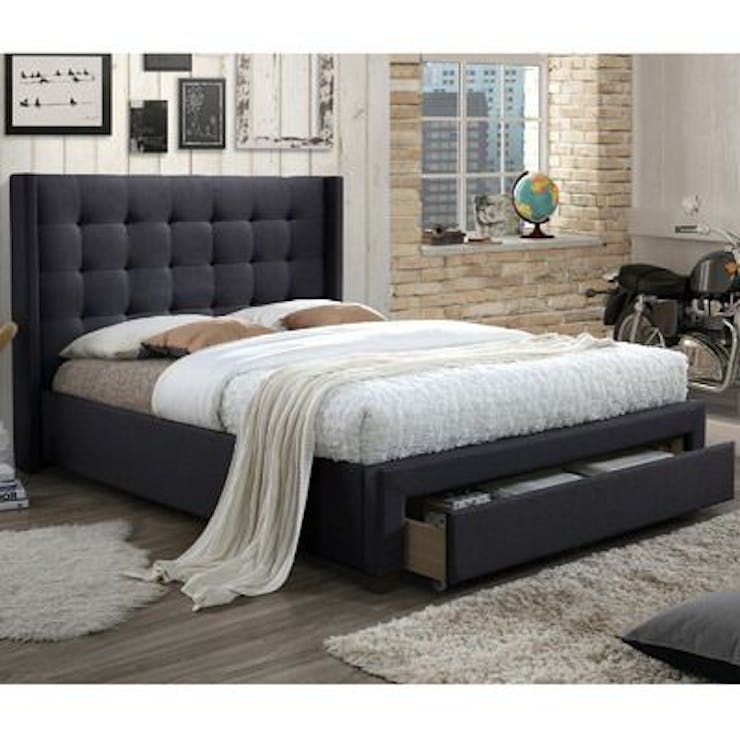 This plush and dapper modern Bengali bed design is another sophisticated design of box beds for modern bedrooms. The aesthetic bed is having a matte grey fabric laminate on its body, with a cushiony headboard. The Dark grey bed design is fitting perfectly into the punk and quirky backdrop of the room. The rugs on the floor, and the light coloured bedding used perfectly compliments the bedroom design. The biggest attraction of the bed design is the pull-out drawer style storage under the bed. 
10. Minimalist Simple Mattress Bengali Bed Design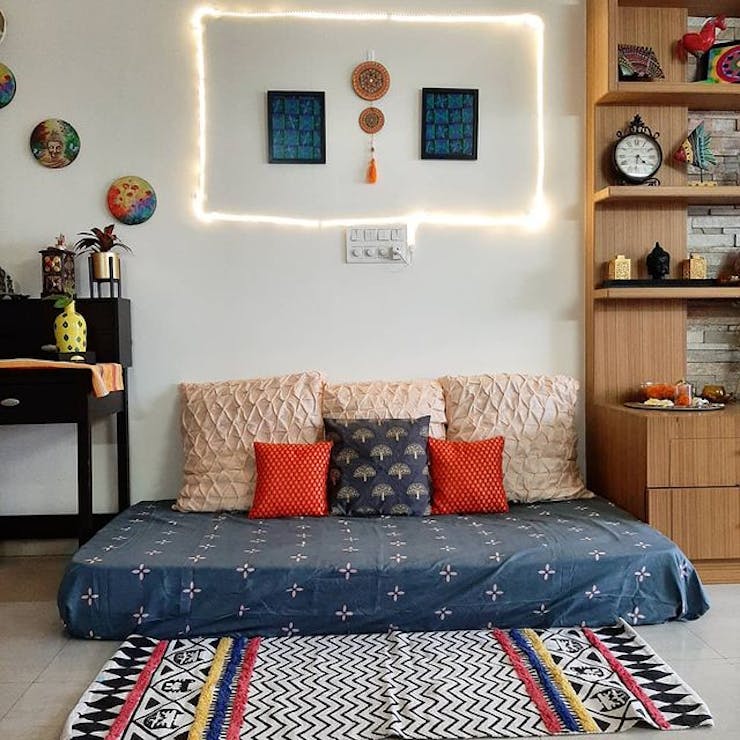 Wondering how to set up an equally aesthetic bedroom for your rental home, which you might have to change shortly? Well, you may always arrange a thick and comfy mattress on a mat instead of an elaborate wooden bed. This is usually known as 'dhaala bichaana' in a quintessential bong household. This is no less than the sophisticated Bengali bed design.
Have an Query? Get free Quotation