21 Best Bedroom Interior Design Ideas
Importance Of Bedroom Interior Design
Imagine returning home after a long tiring day, only to find a never-ending mess of furniture and your belongings. Not a very pleasant sight, is it? This is where top interior designers in Kolkata, may come in at your rescue! Be it the perfect colour scheme for your bedroom wall, or the aesthetic furniture that complements your room, or magically creating space for all those luggage bags that stray around on the floor of your room. getting your bedroom professionally designed gives your the much-needed vibe!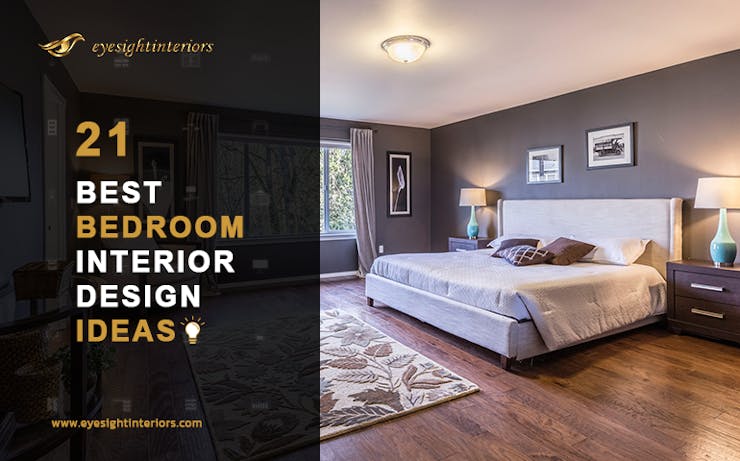 After a long work when you return home tired you go to the bedroom where you eventually complete your night and get cosy into your bedroom by either falling asleep or enjoying a movie. 
Bedrooms are usually your happy space where you come and want to feel a sense of calm to help you recharge for the next day. Bedrooms today have become an essential part of interior designing for which you need to hire the best interior designer in Kolkata. 
The bedroom designs today are modern, elegant, minimal and most of all give you the detachment and escapism from our daily grind and inspire you to be the best version of yourself. The best interior designing company in Kolkata can organize things much more beautifully than compared to others. So here is the bedroom interior design in Kolkata.
Must Read: 12 Best Bedroom Colour Schemes and Combination Ideas [2021]
1. Theme
Interior Designers would firstly set themes and then the materials for your bedroom. A theme can be a powerful unifying device that appropriately sets things. This will help to set designs, setting furniture, and many more to your Bengali bedroom design.
2. Texture of the bedroom
Setting colors for your bedroom makes it more beautiful. Without color it makes the room look pale. Top interior designers in Kolkata always have a collection of many designs for making the walls colorful by not just adding paints to it but also designs like making wooden textures, wall paintings, and many others available in the market. Patterns can seem more crowded when used in a closed space, but a neutral colorway gives it a more subtle and refined appearance. A glamorous texture of black channel-quilted leather headboard and a Moroccan wedding blanket covered in sequins can also be done in bedrooms. Hire interior designers in west Bengal for your bedroom texture.
3. Stylish Symmetry
Symmetry designs are a trendy way to design your stylish bedroom interiors and which gives it a stylish look. 
When a bedroom's furnishings are very symmetrical, it lends the space a rather formal style. If the wall color is kept limited and peaceful, and the furnishings soft and interesting, the formality mellows into tranquillity.
4. Romantic
For making the bedroom romantic you can use a canopy set up which makes it soft and luxurious. The gently draping panels on the bed are quite simple, and making the walls with classic white color will give the bedroom a look serene. Delicate shades of pink, purple and curvaceous furnishings create a romantic atmosphere for space.
Recommended : 15 reasons why you should hire a professional Interior Designer
5. Go Graphics
You can go for black and white shades which create delicate motifs and soft textures to keep the space from feeling too harsh. Blue, pink, and purple are beautiful graphic designs as they add a tint of dramatic designs to your bedroom.
6. Floral Usage
There is no comparison with floral designs. These designs will bring the spirit of the garden into your bedroom. Floral designs bring a fresh and beautiful look to the bedrooms. Whatever design you put on your bedroom like a nightstand, vanity, or windowsill, flower arrangements are a lovely thing to see when you wake up in the mornings. Especially in the fall when you need a dose of greenery.
7. French touch
Ornamented furniture, antique accents, and rich fabrics are hallmarks of traditional French style. French accent makes the entire bedroom look elegant and formal in style.
8. Wallpaper
Nowadays wallpapers on the wall have been a great option to decorate the bedroom. The power of a wallpapered ceilings and walls transforms a room into something special. It's quite easy and simple as if you are bored of the wallpaper then you can change it anytime without creating a mess in the room, and if the paint is done then lots of trouble can be seen during this task.
9. Combination 
Combining colors is another fashion trend. Nowadays people do not use simple and one color shade for their bedroom. Rather combined colors are being done. Orange and black are not a common color combination for the bedroom but it is seen that it creates a different and stylish look for the bedroom.
10. Traditional Look
There is nothing like a traditional decoration when it combines color, pattern, textures, and shapes with effortless skill. Combining relaxed pieces of furniture, such as cozy armchairs, with warm wood antiques will simply match the look. If you bring in the blue shade to the room then it will add an extra nod to nautical style.
11. Hanging Photographs
You can insert as many family photos as you wish in your bedroom, but it's best to keep photographs less in the bedroom. Elegant photographs add a beautiful feature to your space reminding you of specific people while you're trying to fall asleep.
12. Light Fixture
There is a power of fantastic lighting which can change the look of the bedroom as per your desired look. Installing good lighting in smaller, cramped spaces like in a tiny window, can make the bedroom look gorgeous.
13. Using Every Bit of Space
The presence of windows can provide extra space for decor, lighting, and other essentials when there's no room for an extra table. Where there is space you can fit small tables to keep other essentials or a beautiful painting for the decoration. Using the complete end of your bedroom is the perfect and unsuspecting spot to fit in more storage for decoration. Most home interior designers in Kolkata will design a specific area in your bedroom. They know how to use every bit of space and decorates the bedrooms very beautifully.
14. Artistic elements
Using Chalkboards, paintings or beautiful hanging lamps makes it very innovative while designing your bedroom. Designing neon walls is a statement of an art piece and it also gives a Marmorino finish. If your bedroom is done with a white theme then an open, airy, and fresh variety of textures add interest to your beautiful bedroom. To make a stunning bedroom from an interior designer in West Bengal, they have a wonderful technique and sense of decorating bedroom traditionally, each with a different wilting flower and takes it in a contemporary, rather in a whimsical direction.
15. Layering of Bed
A layering bed is a key to a beautiful bedroom. It gives your space an instantly glamorous upgrade that makes your bed cozy during winters. It adds a good dose of ambiance that isn't too brash for your bedroom and improves the overall interior of the bedroom.
16. Mirror Setup
Mirrors create a magical atmosphere when designing the bedroom. They make any space in your bedroom feel more spacious, brighter, and more unique, whether you hang them or simply prop one up against the walls of the bedroom. There are certain designs of mirrors like rustic style, traditional, some large mirrors inspired by historic elements.
17. Seat arrangements
In bedrooms, you can also go for a sitting arrangement. Just because your bedroom is where you sleep does not mean that you have to just sit on the bed and do work. You can also sit or make a space for sitting, which will bring a beautiful impression to your bedroom and you can enjoy your time. A nicely decorated spot to sit down will serve you well when you're reading or need to have a tete-a-tete with your partner.
18. Playful Curtains
A room is never completed without finishing your window dressed up with the best designs of curtains. You can encompass a custom forged-iron bed frame with a finished gold leaf that stands out against the curtains made from a Pierre Frey chintz and Dedar fabric. You can also add some dramatic curtains for your bedroom. There are different materials of curtains which are available in the market. You can hang a set of curtains over your bed. You can also get a decorating bang without spending too much money.
19. Bed Setting
Bedrooms can be given some glamour with a statement of the bed frame. Some platforms and options for a chic piece of furniture are enough for a bedroom. Canopy-style beds are often formal or old-fashioned in style. But it includes a shiny chrome finish on a simple and contemporary shape that brings a traditional primary bedroom right into the modern age.
20. Correct Numbers of Pillows
There should be an adequate number of pillows so that your bed looks sumptuous and inviting when properly made. The best spot is usually between two to six, depending on the measurements of your bed. There are also different shapes of pillows to keep in your bedroom which will give your room a unique look. A stunning bedroom needs a spectacular bed as the centerpiece, which means throwing pillows displayed to perfection. While there are many ways to arrange your pillows, you can try the classic Euro shams in the back, regular shams in the middle, and two or three throw pillows in front.
21. Mattress
The mattress is an important material for a bedroom. Selecting the right type of material is essential. Depending on the height, foundation, night tables, and window sills, the bed mattress should be selected.
People now can afford a normal bedroom setup but you can go for some more unique features. This will change your mood and will make you happy using your newly made bedroom. The bedroom is the place where you spend time with your partner and also read and relax, and reflect on the day. A soothing color scheme of the bedroom and great sheets or other things offer a rare opportunity to put your style on display. The best interior designer in Kolkata will design a perfect and aesthetic bedroom for your personality and will also make you feel satisfied.
Have an Query? Get free Quotation