12 Best Bedroom Colour Schemes and Combination Ideas [2021]
How Bedroom Colour Schemes Impact our lives?
Our bedroom is that part of our next, where we retire after a long day, for sound sleep, and some relaxing time. And we know very well how colours can affect our moods and opinions. So getting a proper and well-thought colour scheme planned by the best interior designing company in Kolkata totally help you set the required aesthetic of your bedroom. And trust me this is important for that deep sleep!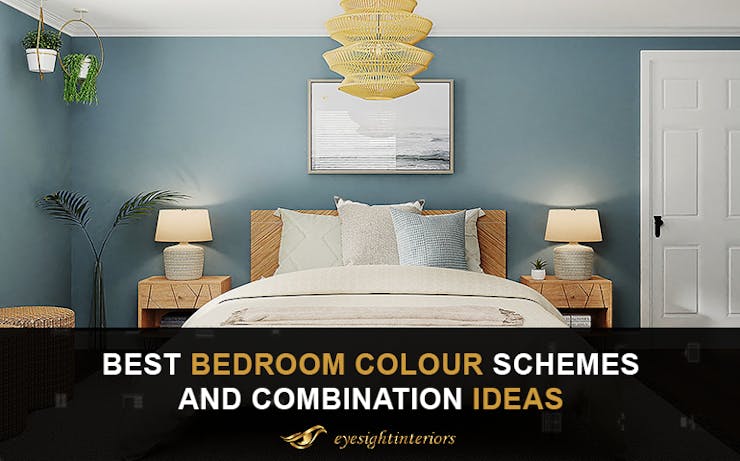 We are so privileged to be able to browse stunning rooms on Pinterest and Instagram somewhat every day, along with the most gorgeous Bedroom Colour Schemes that are staged just brilliantly.
As that bedroom is a personal space with very few guests, you should pick a colour scheme that captures your unique personality instead of following the conventions.
Maybe you want dark colours for quite a warm and welcoming environment or a mild, muted scheme for a quiet and soothing ambience.
So we, the Best Interior Designer in Kolkata, have brought the most exciting bedroom colour ideas for 2021 together. Whether you've remodelled your bedroom or want simply to give your bedroom a makeover. This is also a master class in decorating the nicest and most appealing rooms.
Recommended: 21 Best Bedroom Interior Design Ideas
Idea 1: Blush and Teal
The pink and teal combination seems to be excellently balanced. The calmness of Teal well compliments the pinkish vibrancy. For a peaceful vibe, choose the light tones of both colours that blend them with warm neutrals. Use richer pink and different teal hues for a bolder effect. Try to paint the walls with a mild shade of teal and the accent furnishings and accessories with stronger tone teal and rose.
Must Read : Traditional bengali home decorations with modern Amenities
Idea 2: Mild grey and warm shades
The color palette of the Grey Bedrooms are quite fashionable, and people often would like to maintain the same spectrum of tones throughout their home and thus the grey still seems to be popular.
For these beautiful stylish bedroom interiors, you might bring warmth to the area with light grey combined earthy tones. We particularly enjoy the light grey panelling, which sits on the white and grey bedding bringing in a more earthy neutral vibe.
Idea 3: Blue and white room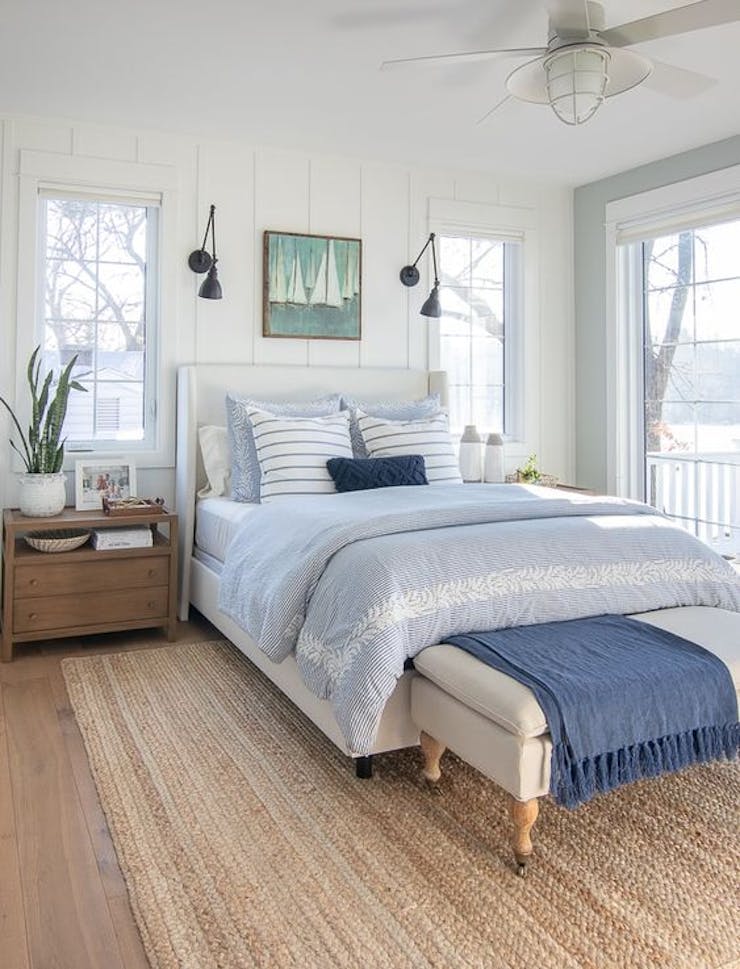 It must be a retreat in your bedroom. Some colours are naturally calming, like blue. It's highly liked, besides being just serene. Studies show that the colour is also the most common for bedrooms. It will let you fade more quickly into your sleepland. Moreover, it comes with a range of shades from vibrant turquoise and marine to bold cobalt and dark navy. No wonder, our favourite sleep induction duo plays a major part. Blue and white is calm, elegant and unique - the sky's the limit of such a dreamy colour combination for bedroom walls.
Must Read: Top 10 Bengali Bedroom Interior Design Ideas You Need To Know
Idea 4: Blue with grey
Another amazing pair with blue is grey. It only gets the cool factor grade up if it is coupled with the trendy grey panache! Witty, sophisticated and relaxing, grey and blue, this duo of bedroom colour combination ideas are simply way beyond outstanding.
Idea 5: Monochrome beige
A neutral selection of shades may be the cornerstone of well-layered interiors for experienced interior designers in west bengal. Creative textures, which complement and balance each other, provide a minimalist design that resonates in every aspect. A solemn pastel beige monochromatic room is a perfect example.
Idea 6: Peach and cream with grey.
White fits very well with different shades of peach, looking crisp and bright amid strongly pigmented vivid peaches or soft and discreet with subtle peach tones. Pale peach appears somewhat like a neutral, providing only a touch of warmth to walls and ceilings. Taupe, gold and cream mix to make a space soft and romantic with peach. Peach looks beautiful and classy. Peach makes great Bedroom paint colour ideas since it complements most skin tones. Surround yourself in every place where you want to look your best with peach, tan, beige and pink colours.
Idea 7: Pinks and browns.
Brown and pink strike one of the best bedroom colour combinations of delicate and muted down accent.
While this colour scheme is appropriate for a nursery or a child's room, adding metallic or tan coloured elements may give sophistication that fits with any age.
Idea 8: Lime and green
Lime is a cheerful colour, and green is in harmony with nature. When you mix the two, you get a beautiful ambience with a lively and fresh vibe.
The shades yellow and green are excellent choices for adding life to your personal leisure retreat, wherever it is.
Idea 9: Purple palace!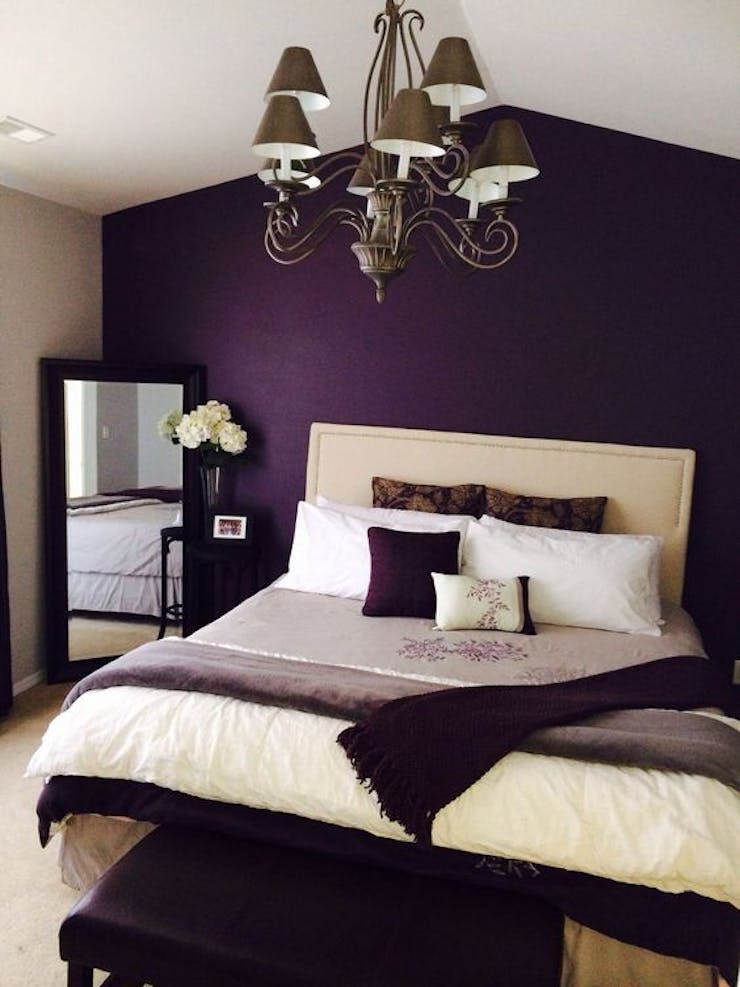 Purple tends to trigger strong reactions in people either they love it or they hate it. As a result, it's not one of the most popular choices for a master bedroom colour design—many people associate it with a child's room or a fancy, over-the-top feminine environment. That's a bummer, because purple can be extremely classy and contemporary in the main bedroom, and about as enticing to men as it is to women, if executed right.
Idea 10: minimalist Teal
If you prefer minimalism and brevity, use teal as a bold feature tone in a white room and let it do all the talking!
For a pristine, stylish bedroom, mix it with white for a classic bedroom colour combinations for walls with a modern twist, and seek for basic furniture focused on clean edges.
Idea 11: Maroon Royalty
Maroon is a colour that can intrigue many senses at once. For living rooms, it can radiate energetic and blingy vibes. However, it can be as passionate and relaxing in the bedroom.
Idea 12: Offbeat Orange
If you want to create a tropical, relaxing sleeping environment, this is the best of Bedroom paint colour ideas to choose. On the colour wheel, orange signifies the wild child, inciting creativity and instinct. Use earthy colors in your bedroom to balance orange's phenomenally dynamic traits with its sleep-inducing powers.
Have an Query? Get free Quotation