Modern Banquet Hall Interior Design Ideas
Banquet Hall Interior Design For Property Owners
So you have just decided to build an excellent banqueting facility out of your property, or maybe give some renovation to your existing business. Knowing the how to's of a banquet hall interior design, helps you to know what exactly can you expect by hiring the best interior designing company in Kolkata.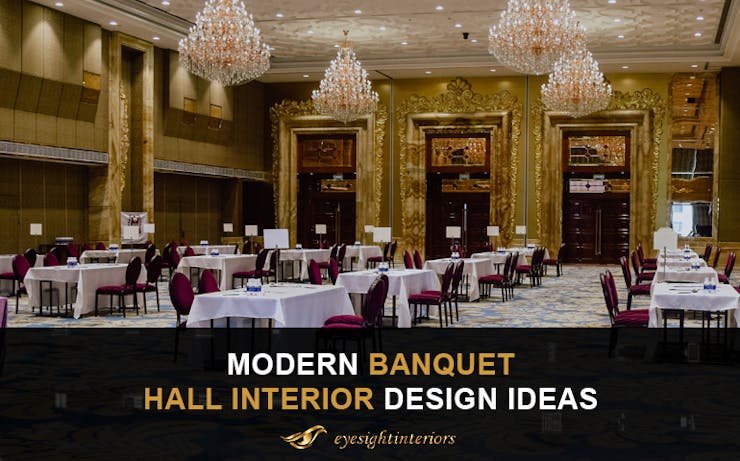 So, there are different aspects of a typical modern banquet hall design. Be it a birthday party, or a wedding bash, or even an anniversary eve. The celebrations do get impacted by the decor and ambience of the venue. So if you are operating a banqueting facility, you shall always enhance the experience of your clientele by providing them with the best luxury banquet hall design, designed by the top interior designers in Kolkata. Apart from the tip-top modern banquet hall wall design, the other parts of the banquet hall interior design service include the Ceiling, Flooring, Podium and Seating designs!
1. Ceilings Of A Banquet Hall Interior Design
Here are some beautiful inspo on designing the ceilings of your banquet hall.
a. Geometric White Ceiling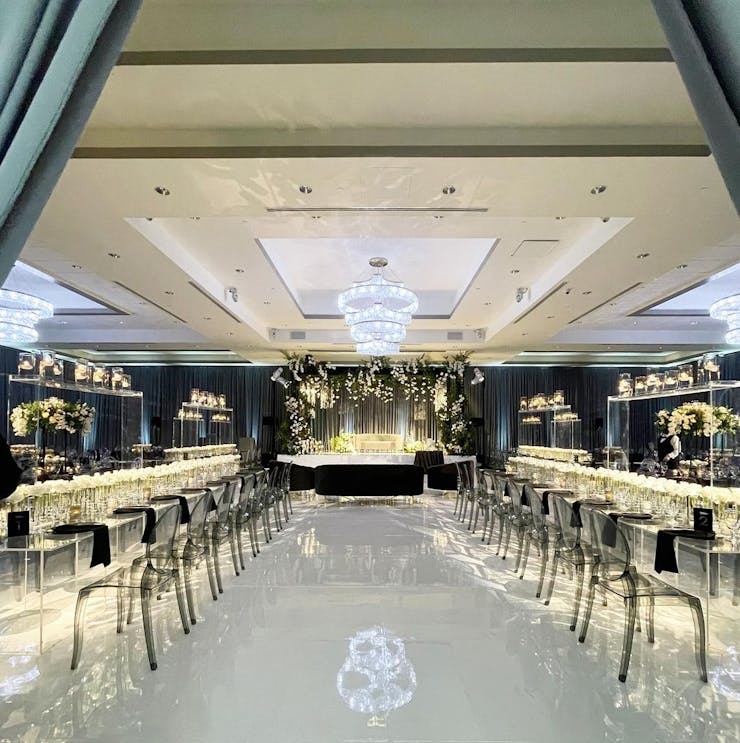 A simple yet chique white false ceiling design with concentric 3D quadrilateral motifs. The white-tiled floating, the glassy accoutrements and the washed navy blue draperies perfectly complement the ceiling of this luxury banquet hall design. 
b. Transparent Roof And Ceiling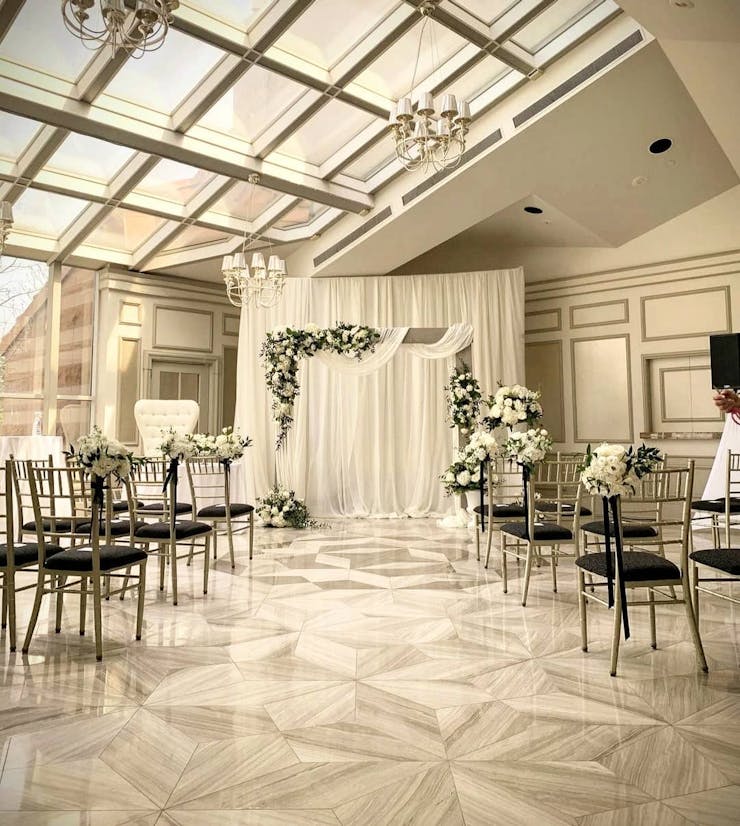 How about the soothing sun rays kissing the floor of your banquet hall? Or the beautiful stars adorning the decor of your property in a nighttime event? An all-glass ceiling like this can certainly make all that happen! 
c. Crystal Chandelier Ceiling Design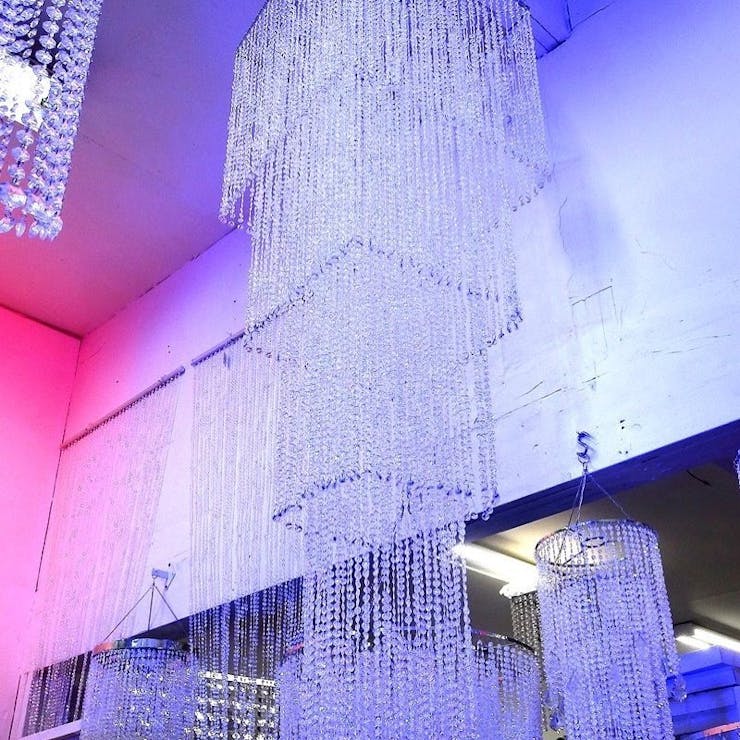 The beautiful crystal beads chandeliers can definitely amp up the ceiling decor game of any community hall. The aesthetic pieces give a kaleidoscopic vibe to the ceilings. 
d. Modern Bicoloured Ceiling Design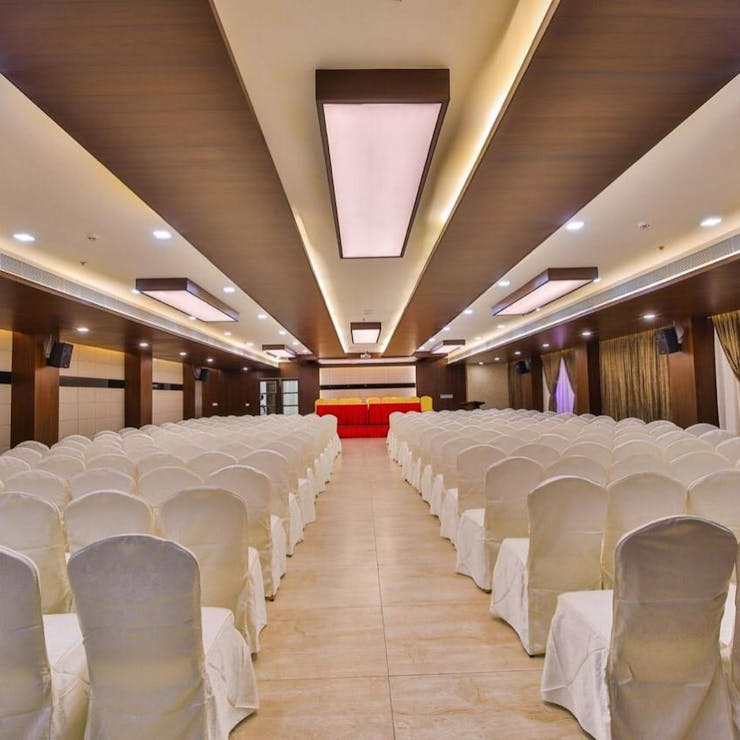 How about this chique and modern design of ceiling for a banquet hall interior design. The simple off white painted ceiling design with sun mica laminate borders of indeed a very simplistic opulence.   
e. A Starry Ceiling Decor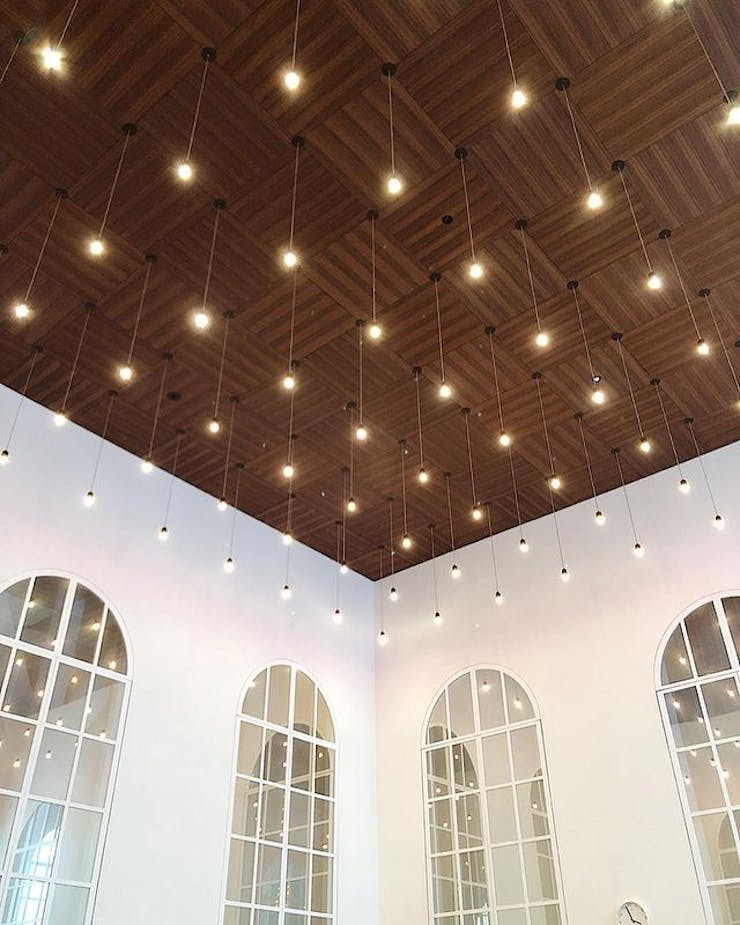 This is yet another modern and sophisticated design of a banquet hall ceiling, in checked wooden tiles. And how about these beautiful stemmed lights hanging along with the corners of the tiles?
2. Banquet Hall Interior Design Ideas Of Flooring
The next element to a perfect Banquet Hall Interior Design is the flooring of the area.
a. Sticker Floor mat Flooring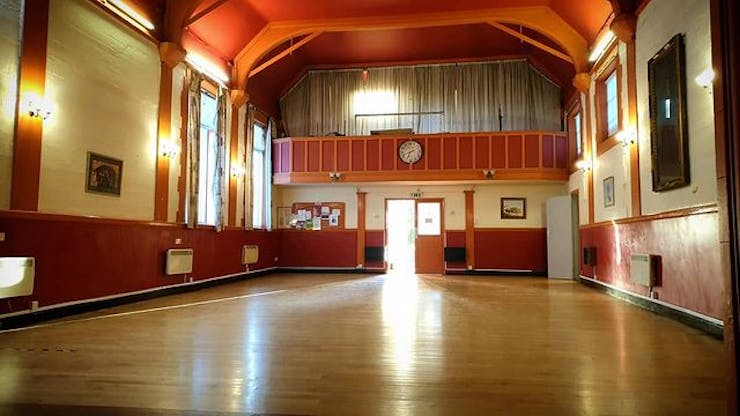 Sticker floor-mats come in a variety of prints and can be a very pocket-friendly option for the flooring of a banquet hall. This can be easily changed from time to time depending on the needs.
b. Exotic Wooden Tiled Flooring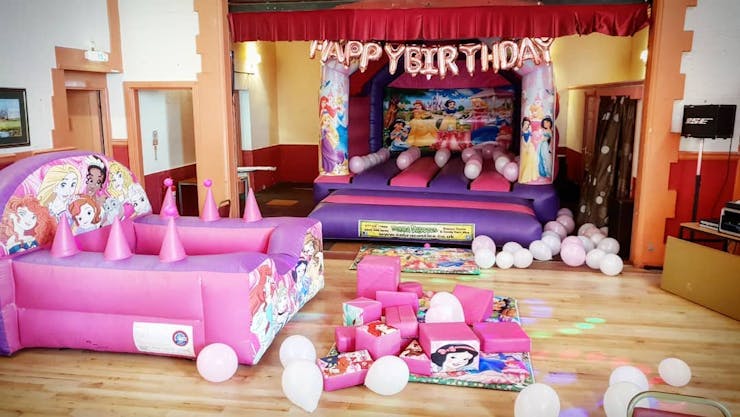 Wooden laminated tiles are one of the very popular floorings for modern banquet hall interior design. They are excellent insulators to temperature and can be perfect for keeping the clients comfortable inside the hall.
c. Quintessential Vitrified Tiles For Flooring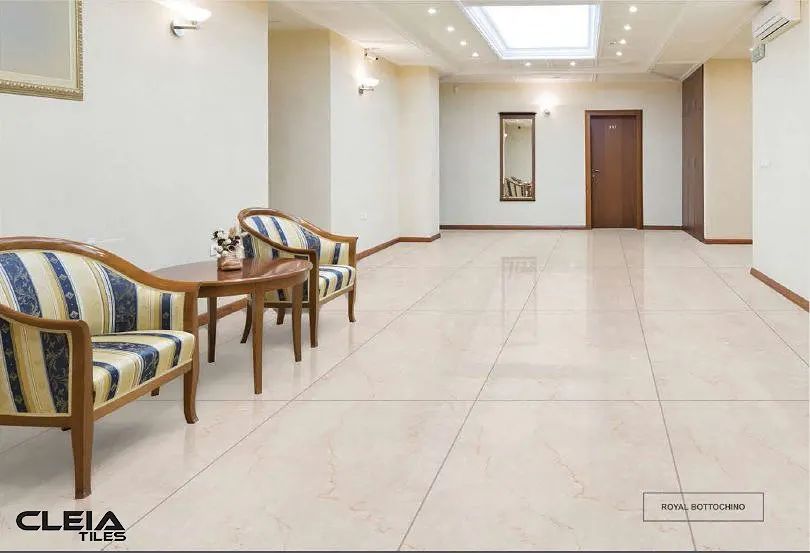 These are a variety of ceramic tiles and can be extremely durable options to choose for doing the flooring. They are able to withstand rough regular use, and hence make perfect for a banquet hall.
d. A Black Sultry Granite Flooring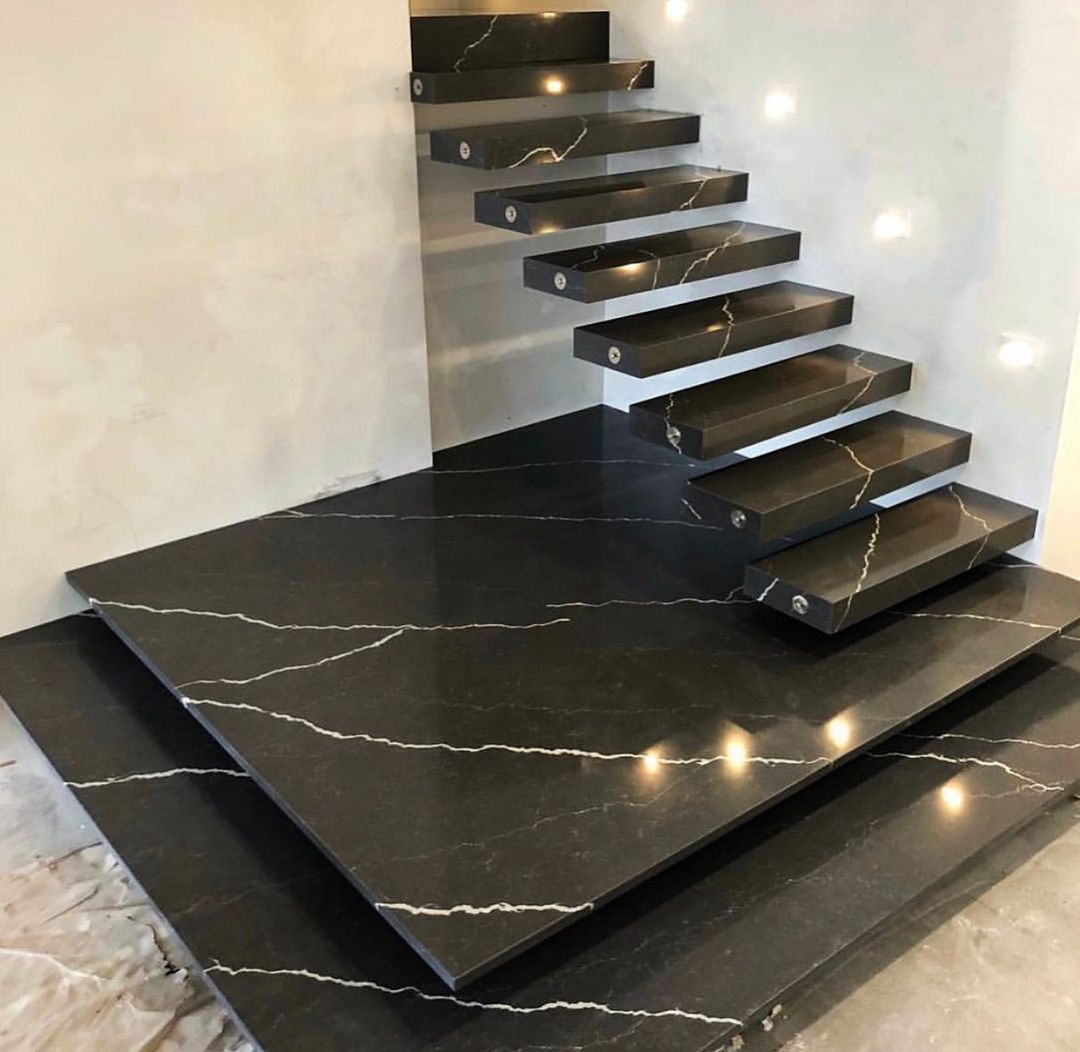 The black Granite flooring can be a very extravagant and classy option to get the floors of your luxury banquet hall design done! 
e. Soft Carpet Spread Flooring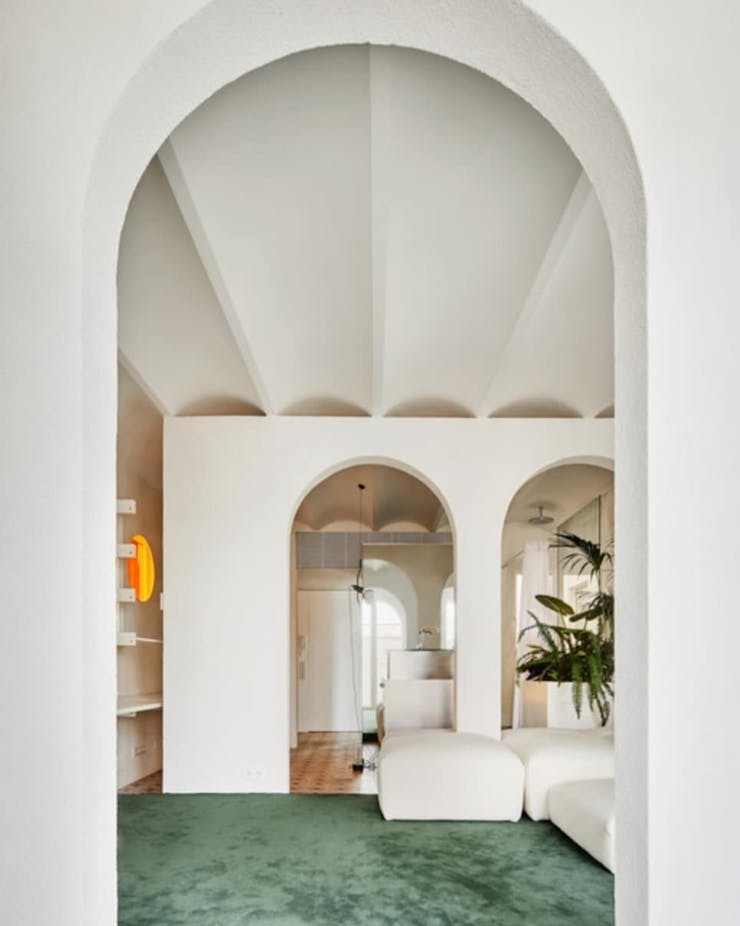 Carpets can be a very safe and secure option to choose from in flooring ideas for banquet halls. If vacuumed and maintained properly, they do make very aesthetic choices in flooring. 
3. Podium Decor Of A Banquet Hall Interior Design
Be it a wedding event, or a birthday party, or even a corporate event, podiums are indeed an important part of the banquet hall interior design.  
a. Lilac And Pink Floral Podium Decor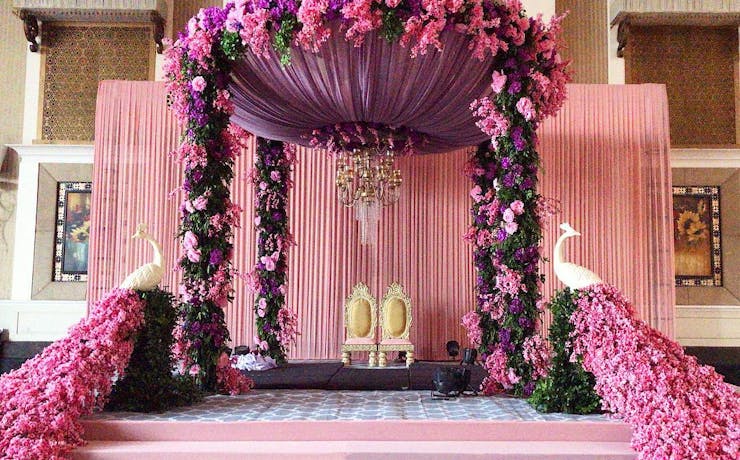 This inverted dome-style design is a perfect decor for a wedding, anniversary or engagement event. The Lilac and pink combination is indeed eye catching!
b. Pastel And White Podium Decor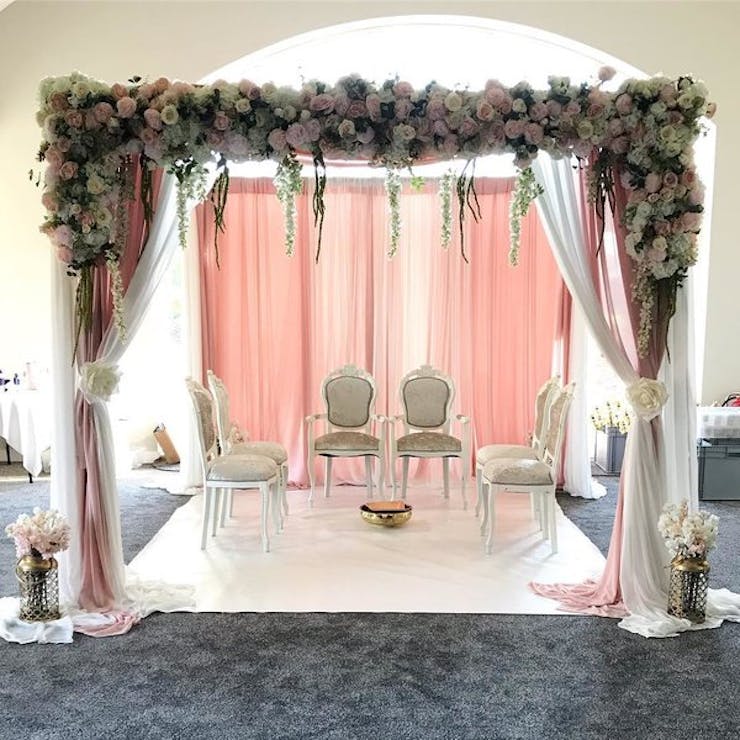 A chique white and coral themed podium decor. A perfect combination for any event, be it a Birthday, Wedding or even an anniversary party.
c. Low Stage With Floral Pillars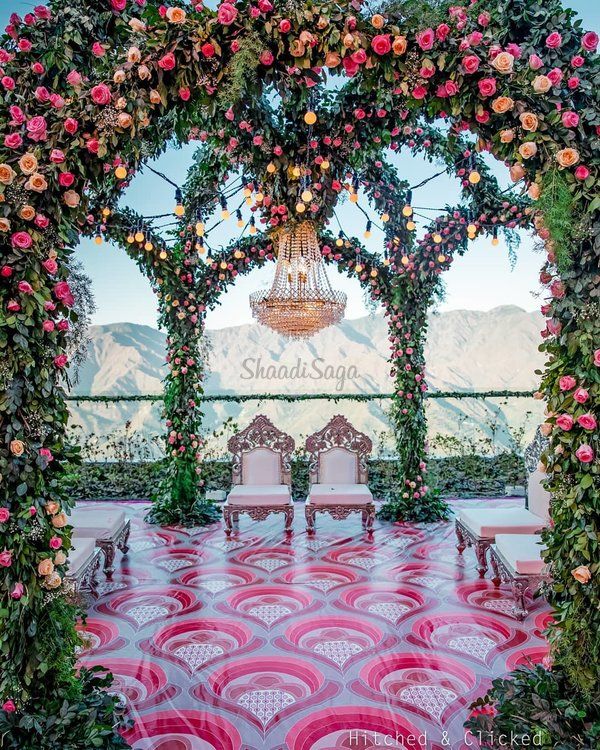 And how about this colourful stage with flower and foliage pillars?
d. White And Green Podium Decor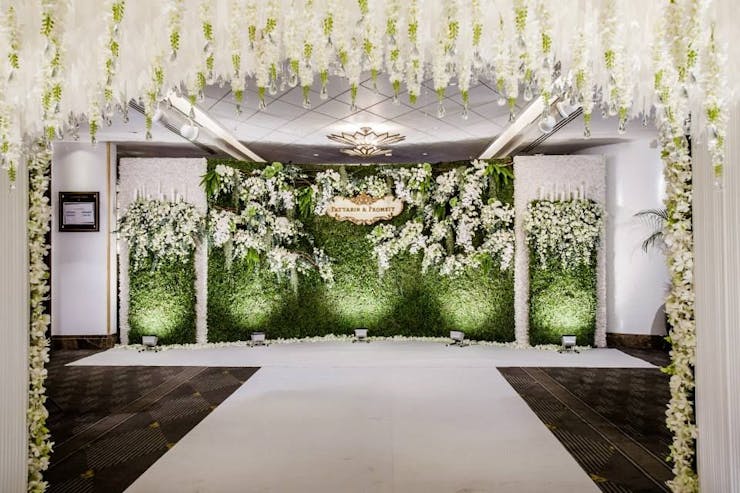 This aesthetic white and green floral stage is indeed grand and chique. The string light hanging from the ceiling further add to the vibe.
e. Geometric Podium Design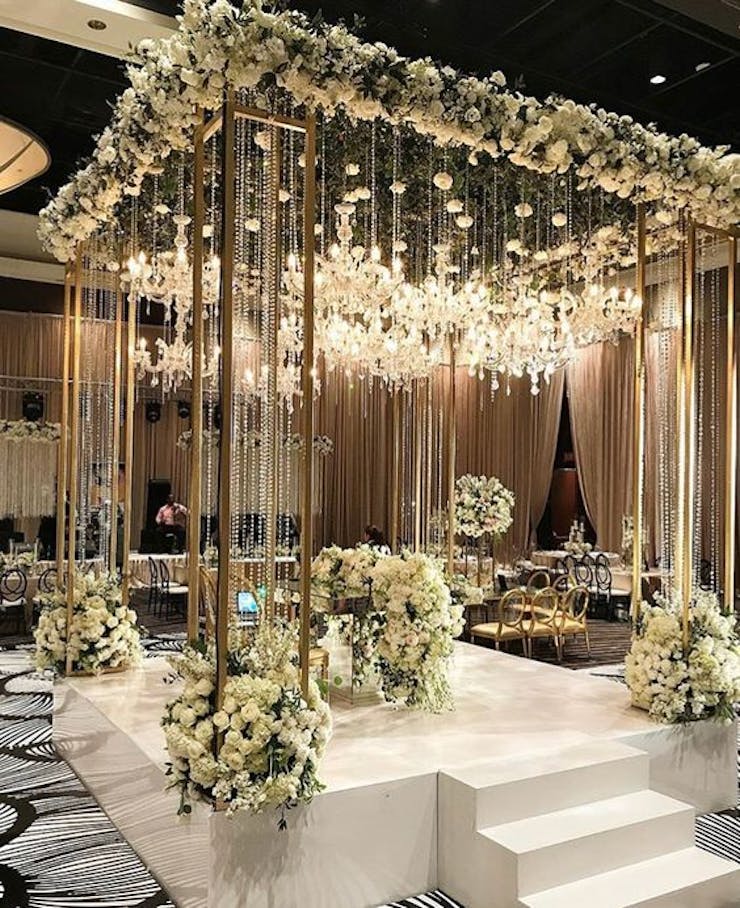 How about this modern geometric pillar stage? The white glossy stage is yet another sophisticated element of the decor.
4. Seating Arrangement Of A Banquet Hall Interior Design
The next thing in the banquet hall interior design is the seating arrangements. You can always try a mix and match of these for your property.
a. Long And Continuous Sitting Arrangement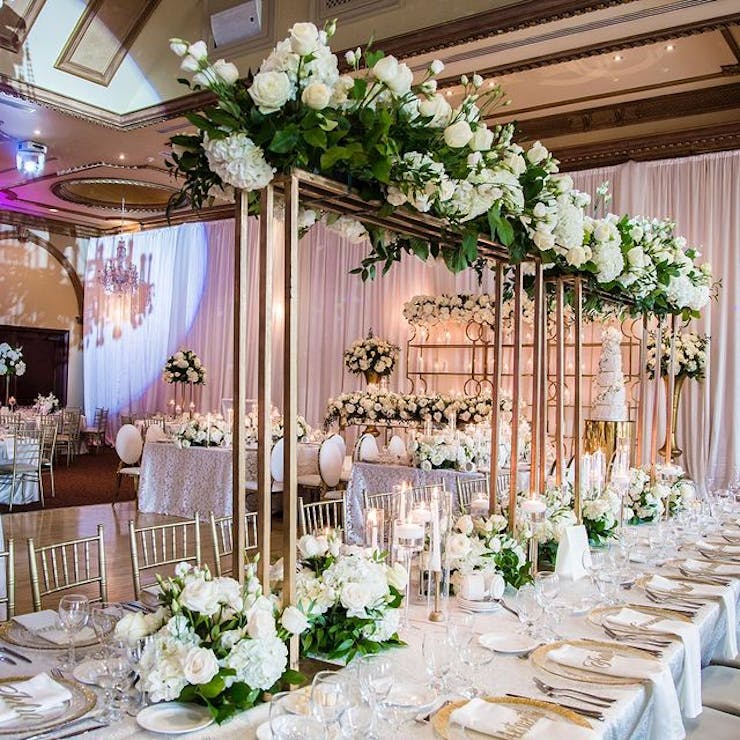 This decor here has some long tables arranged into a single row with chairs on either side. This makes a perfect arrangement for huge family gatherings, and also for corporate meals at times. 
b. Table Row Sitting Arrangement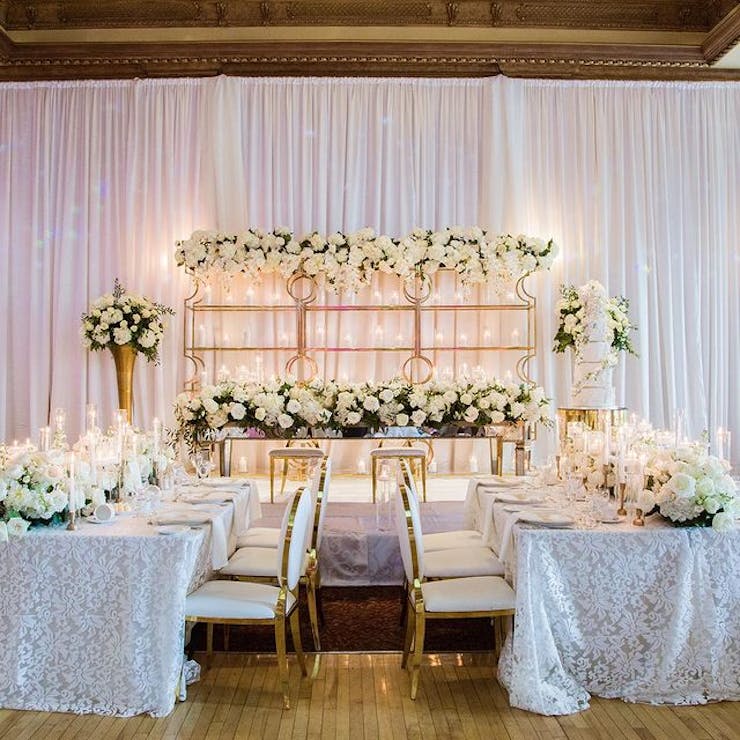 Or maybe arrange tables in two parallel rows perpendicular to the podium. This gives a space an organized as well as an aesthetic feeling.
c. Cluster Table Arrangements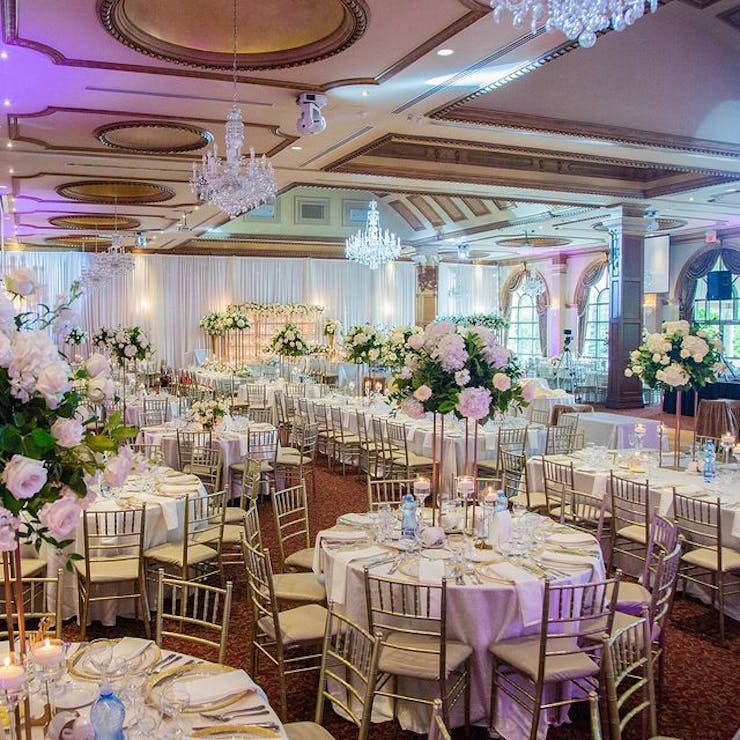 While designing banquet halls for a huge gathering in a big banquet hall, you can always go for arranging tables and chairs in clusters. This gives enough space for moving around and accommodating more seats as well.
d. Sitting Arrangement With Chairs In A Row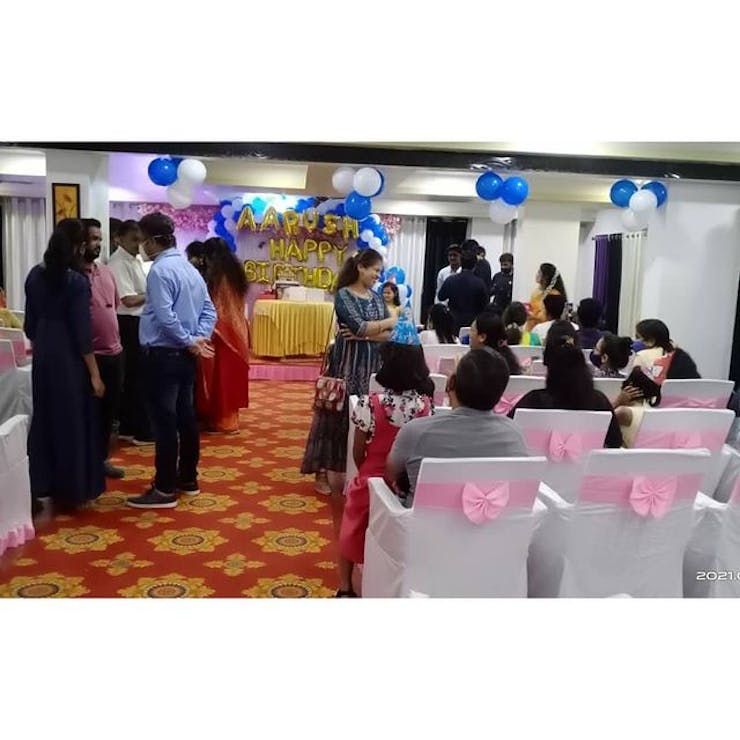 A gallery-style sitting arrangement can be helpful for both families as well as corporate events.  
e. Sitting Along The Ramp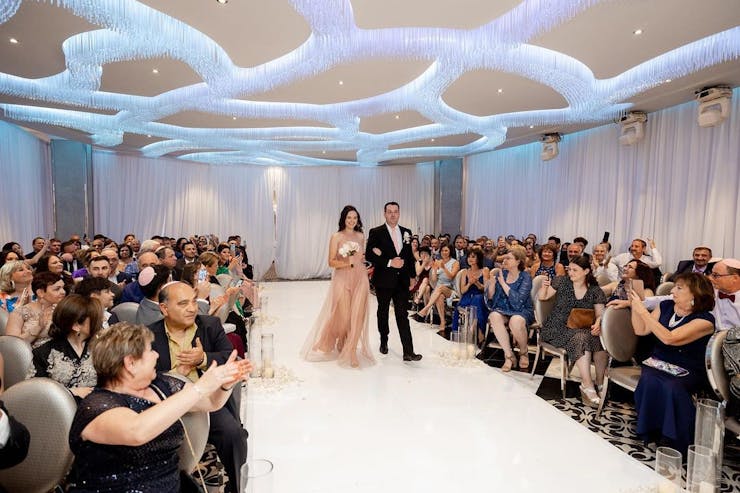 Be it a wedding event, an anniversary or even a corporate event. Arranging the seating along the extreme sides of the halls with a ramp in the middle of the space can accommodate the guests and have space for processions both at the same time. A perfect seating arrangement for banquet hall interior design.
Have an Query? Get free Quotation